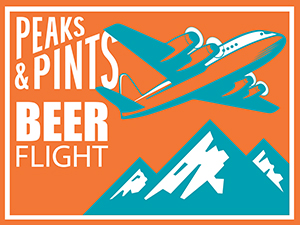 Today feels like Autumn is peaking its head through the clouds. With this weekend's cooler temperatures, a certain beer flavor peculiar to America also arrives: Pumpkin beers have descended like a Yankee Candle. It seems early, but Peaks & Pints says that every year. American colonists might have made the same statement, too. The colonists would substitute pumpkin for grains in their beer. The popularity of the style began to wane in the 1800s as whole grains became more widely available. Eventually, pumpkin beers were rare — a seasonal sideshow, showing up only in the breweries daring enough to make them and enjoyed only by drinkers willing to take a chance on the oddities. As the craft beer craze took hold in the '80s, so too did the revival of the pumpkin ale with Buffalo Bill's Pumpkin Ale arriving in 1985 claiming to use an original recipe from George Washington, followed by Elysian Brewing's pumpkinpalooza. Today, however, brews made with pumpkin have officially become mainstream, with nearly every brewery worth its yeast churning out bottles and kegs packed with pumpkin, nutmeg, ginger and more. Peaks and Pints has enough pumpkin in the cooler to make it a thing. We present a to-go flight of pumpkin beers that we call Peaks and Pints Pilot Program: Pumpkin Beer Flight.
Peaks and Pints Pilot Program: Pumpkin Beer Flight
Elysian Night Owl Pumpkin Ale
5.9% ABV
While most breweries have one or two pumpkin beers in the portfolio, Elysian Brewing Co. brews more than a dozen. Night Owl, brewed with more than 7 pounds of pumpkin per barrel, seven different malt varieties, green and roasted pumpkin seeds, bittered with Magnum hops and spiced in conditioning with nutmeg, clove, cinnamon, ginger, and allspice, is their most lauded. It leans more toward Christmas than Halloween. Maraschino, banana-nut, cinnamon, pecan, and graham cracker hit the tongue. Cinnamon dominates with some caramel and a touch of biscuit malt sweetness to support.
Elysian Punkuccino Coffee Pumpkin Ale
5% ABV
Elysian introduced its Punkuccino Coffee Pumpkin Ale at the brewery's annual Great Pumpkin Festival in 2013 (It's postponed this year). The beer's a pumpkin milk stout loaded with Stumptown's cold-pressed coffee with just a shake of cinnamon and nutmeg, plus, of course, pumpkin added into the mash, kettle, and fermenter. Pale, brown, biscuit, C-77 crystal, chocolate and kiln-coffee malts provide the body, German Northern Brewer lends a touch of bitterness, and lactose sweetens the beer just a touch. The java turns the beer roast-forward; the lactose and pumpkin smooth out the sip.
Rogue Pumpkin Patch Ale
6.1% ABV, 25 IBU
Rogue Ales hand-chops pumpkins, seeds them, roasts the pumpkin meat in pizza ovens, and then pitches them into the brew kettle along with vanilla bean, ginger, cardamom, cloves, cinnamon, nutmeg, orange peel and hops to create flavors of caramel, burnt brown sugar, dry floral spices, cinnamon stick, and some tang. It's heavy on spice, but whatever.
New Belgium Voodoo Ranger Atomic Pumpkin
6.4% ABV
Not too spicy, not too sweet, and not like any pumpkin beer you've had before. New Belgium Brewing Voodoo Ranger Atomic Pumpkin ale is brewed with Saigon cinnamon, plus habanero and Chile de árbol peppers for a sweet start and spicy finish with a little bitterness in between. The medium body ale pours bright pale amber with a light white lacing, and features Nugget hops combined with Pale Mena, Pale Rahr, Caramel and Munich malts to create a spicy and warming mouthfeel.
Elysian Dark O' The Moon Pumpkin Stout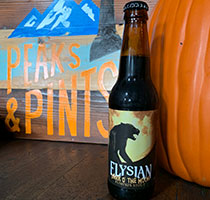 6.5% ABV, 20 IBU
Elysian's Dark 'O The Moon is a straight-up pumpkin stout, a fusion of American-style stout and classic pumpkin spice ale influences. Sweet cinnamon dominates the nose in pleasant fashion, giving way on the palate to mild roast and brown sugar. Chocolate, coffee, tobacco and vanilla add to the flavor with a slightly bitter finish. Overall, the beer isn't nearly so sweet as the aroma initially suggests, and it does a good job of asserting its "stoutness" without it overwhelming the supporting pie spice. It's not the most complex of these beers in the spice department, but it does the cinnamon-heavy style well.
Left Hand Pumpkin Spice Latte Nitro
7% ABV
Left Hand Brewing has released Pumpkin Spice Latte Nitro, a new seasonal pumpkin ale with spices and coffee on nitro. Left Hand developed a special spice blend including cinnamon, ginger, nutmeg, and allspice to reflect the signature flavor, and added premium coffee by Boulder-based Ozo Coffee for a true latte taste.
Dogfish Head Punkin Ale
7% ABV, 28 IBU
Dogfish Head calls its Punkin Ale a brown pumpkin ale. Hmmmm, don't you need some nutty, toasty malts notes to fit into that category? Whatever. The pumpkin and spice flavor is here with cinnamon, allspice and a tiny dollop of brown sugar that settle atop soft burnt biscuits and earthy pumpkin rind with each sip; a mild hop bitterness brings balance at the close.
Elysian The Great Pumpkin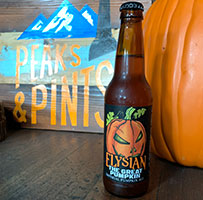 8.1% ABV
This imperial pumpkin ale was the silver medalist at the 2007 Great American Beer Festival in the Fruit and Vegetable category and was also the world's first imperial pumpkin ale. Brewed with Pale, Munich, Cara-Hell, Cara-Vienne, Cara-Munich, and Crisp 45° L Crystal malts, plus roasted pumpkin seeds in the mash, and extra pumpkin added in the mash, kettle and fermenter, as well as spiced with cinnamon, nutmeg, cloves and allspice, The Great Pumpkin tastes like pumpkin pie with Thanksgiving flavors of pumpkin, cinnamon, vanilla, graham cracker, caramel, brown sugar, and allspice.
Reuben's Autumn Harvest Imperial Pumpkin Ale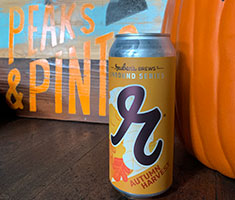 8.7% ABV, 22 IBU
The great Autumn Harvest Imperial Pumpkin Ale has re-risen from Reuben's Brews' pumpkin patch with everything pumpkin beer lovers enjoy: A sweet, chewy, delightful ode to the sensation of being warm and cozy in the fall. Spice notes compliment the rich, pumpkin mouthfeel, sweet malt, and toasted nuts notes. Reuben's is a true friend to fans of the style and is clearly committed to brewing with class and creativity. 
Great Divide Pumpkin Spice Yeti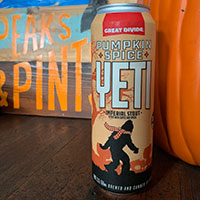 9.5% ABV
Rich and roasty with added layers of decadent sweetness, Great Divide Brewing's Pumpkin Spice Yeti is brewed with seasonal spices and a unique selection of coffee from Pablo's Coffee.
LINK: Peaks & Pints cooler inventory
---