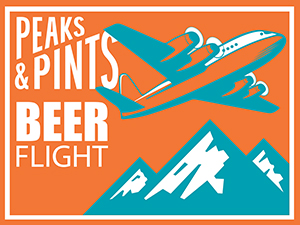 Steve Altimari and his wife, Barri, a retired chef who is now High Water's "chief flavor officer," briefly owned a brewpub in Stockton, California, in the mid-'90s, Valley Brewing, before opening High Water Brewing. They license and fund a contract brewing company with Drake's Brewing out of San Leandro. After a successful launch, they outgrew their space at Drake's in two short years. The brewing operation was moved to Hermitage Brewing in San Jose which is still the primary production facility today. Barri had the idea for a s'mores-themed beer, which Steve develops a recipe around. Campfire Stout is born in 2012. In a few short months it became High Water's number one selling beer and still is to this day. Today, Peaks and Pints offers a mini, to-go flight of High Water beer — a flight we're call Peaks and Pints Pilot Program: High Water Beer Flight.
Peaks and Pints Pilot Program: High Water Beer Flight
High Water Campfire Stout
6.5% ABV, 38 IBU
This pitch-black stout is impenetrably dark and tastes of liquid s'mores. That may sound ridiculous, but High Water didn't overdo the flavor of graham cracker, and the marshmallow is mostly in the nose. As for chocolate? Well, we'd be lying if we said there was no room for chocolate notes in beer. There's definite charm in a beer that has you reliving childhood memories of eating marshmallows until your fingers were forever glued together and unrolling that worn flannel sleeping bag so you could fall asleep under the stars.
High Water Sugaree Maple Bourbon Pecan Pie
9.8% ABV, 28 IBU
Brewing a nut-based beer isn't easy as pie. In the case of pecans, oil can easily destroy a beer's foamy head. Plus, capturing pecans' delicate scent can be tricky, as too much roasting ruins the aroma. But High Water cracked the nut by adding Vermont maple sugar and bourbon barrel oak chips. Call us nuts but any beer that's 9.8 percent with this level of sweetness is meant to be a sipper, so we slowly enjoy toasty malts and charred marshmallow with a splash of vanilla-laced whiskey and peanut shell after the last sip.
High Water Imperial Campfire Stout
11% ABV, 38 IBU
This is a stout, so expect caramel and molasses flavors, and like a lot of present-day stouts, its mash includes chocolate malt, so there's a trace of that. But High Water Brewing also throws 100 pounds of graham crackers into the brewing kettle to make their Campfire Stout. The graham crackers reinforce the caramel so much that you might hallucinate a little vanilla flavor. In the imperial version, High Water takes everything we love in the Campfire Stout but turns the flavor volume up to 11.
LINK: Peaks & Pints cooler inventory
---