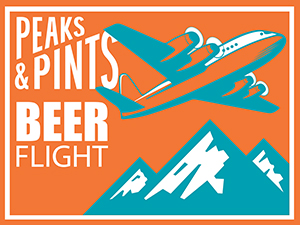 National Pretzel Day is here again. Yup, there's a day celebrating everyone's favorite knotted bread, and that's a good-enough excuse for us to seek out a twisted treat. This doughy, twisted treat has been enjoyed since the Middle Ages. According to legend, Italian monks first invented the pretzel as a reward for pious village children. It didn't arrive in America until the 18th century by German immigrants settling in Pennsylvania. You're going to need something to wash that pretzel down with. Just about any beer will work with a pretzel, but to make the most out of the match you'll want to pick a beer that complements the doughy and toasty knot. Classic German beer styles really shine here. If you're leaning toward Peaks & Pints pretzels with beer mustard, a dark lager or a bock that will be able to hold up to that on the palate to cut through some of the mustard's vinegar flavor. A Märzen or (Märzenbier) is a Bavarian lager, with a medium to full body. It's toasted malt flavor profile, play well off of the crisp, outer skin of a traditional soft pretzel. A good old helles lager is a close runner-up for best pairing with a classic soft pretzel. A bright, hoppy pilsner or a dark and malty dunkel weisse are great matches too. Peaks and Pints Pilot Program: Pretzel Beer On The Fly is our to-go beer flight to pair with this special day.
Peaks and Pints Pilot Program: Pretzel Beer On The Fly
Schneider Weisse Mein Aventinus (Tap 6)
8.2% ABV, 16 IBU
Schneider Weisse has a history dating back to 1872, when the company G. Schneider & Sohn was founded in Munich by royal brewer Georg Schneider I and his son Georg Schneider II. When the King of Bavaria later decided to sell the rights to brew wheat beer, Schneider snapped it up, acquired the Weisses Bräuhaus in Munich (the oldest wheat beer brewery in the city), and became the first "common man" to brew wheat beer in Bavaria. According to the official website, the company expanded its operations to the nearby towns of Kelheim and Straubing in 1927, and subsequently, after the breweries in Munich were bombed and destroyed during World War II in 1944, they moved their entire production to Kelheim. Schneider Weisse's basic assortment of beers consists of seven "Taps", including Aventinus (Tap 6), a strong dark wheat, or weizenbock. It hits the tongue with wheat, caramel, leading to dough, vanilla, hint of lemon sourness, banana, cloves, chocolate, marzipan, raisin, plums, and brown sugar. Seriously.
Ayinger Altbairisch Dunkel
5% ABV, 21 IBU
About 25 kilometers from the Oktoberfest grounds in Munich, lays a little town called Aying, home to the beloved Ayinger Brewery (Brauerei Aying). This 142-year-old brewery has a deep family history, and remained almost completely unchanged until a new, updated brewery was built in 1999 in order to keep up with the growing market. Again and again Ayinger has won awards for its beers, including the World Beer Cup, and the Deutschen Landwirtschafts Gesellschaft — DLG (German Agricultural Society) gold and silver medals. Peaks and Pints celebrates National Pretzel Day with one of the DLG gold medal winners — Altbairisch Dunkel. Easy caramel and light, grainy malts play on the palate first, followed by a lovely, floral hop bite that counters the sweetness. With its paltry profile, courtesy of a light body, low alcohol, and dry, clean finish, this brew embodies the style's approachability.
Paulaner Salvator
7.9% ABV, 28 IBU
Located in Munich, the Paulaner brewery officially started in 1634 when the Paulaner Monks of the Neudeck Monastery brewed this doppelbock was and drank it instead of food during Lent. Salvator has always been the flagship beer, although a few refinements have been made over the years. It is the industry standard and perfectly embodies this lager style that is often called "liquid bread." It's brewed with Herkules, Tauras, and Hallertauer tradition hops using Munich and Pilsner malts that flow sweetly across the tongue, brightened by green grape and cherry fruitiness. Beautiful bready aromas, with tinges of alcohol spiciness, waft enticingly, while alcohol lends a gentle warmth into the finish.
Bitburger Premium Pils
4.8% ABV, 38 IBU
Founded in 1817, seven generations of family ownership allowed Bitburger Brewery to be named number one draft beer in Germany in 1992, a position it holds to this day. Bitburger Brewery's success has been built on the strength of their original Bitburger Premium Pils. Bright, fresh golden colors and a rich frothy head are what you first notice about this elegant pilsner. The Bitburger well water gives the beer a very clean, hoppy taste, with nutty flavors accompanying. The bitterness of the hops is balanced well with the mellow sweetness of the body of the beer. This is a delightfully refreshing beer: The body is light but not watery, and the carbonation makes quick work of cleansing the palate to enhance the beer's dry, clean finish.
Hofbräu München Hofbräu Original
5.1% ABV
Wilhelm V, Duke of Bavaria wanted a wholesome brewery in Munich. The new brewery, Hofbräu München, lurched into action in 1592 in the city's old courts building with brewmaster of Geisenfeld Monastery, Heimeran Pongratz, to plan and supervise the construction of Hofbräuhaus (the "ducal brewery"), and to be its first master brewer. The only beer produced at that time at the company to be called Hofbräu was brown ale. While the brown ale was brewed with barley, the duke's successor to the dukedom, Maximilian I, preferred lighter wheat beers, and he promptly ordered the brewery to make them. By 1605, the facility was producing 38,000 gallons of beer per annum, and couldn't keep up with the demand. By 1607, a new, larger building had been constructed to house the brewing operations. By 1614, the brewery began making a darker, stronger beer called maibock. For this pretzel pairing flight, Peaks & Pints selects Hofbräu Original, a helles lager with aromas of herbal and lightly floral hops, malt, and some wheaty aroma, followed by flavors of herbal hops, also a little bit earthy and floral, malt, wheat, some yeast, a pleasant bitterness midway through the finish.
---