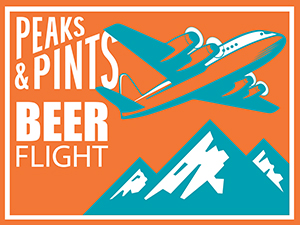 As in many things, our dear state is divided on the subject of snow sports. Those who don't ski or board resent those who do for getting excited about the cold and showing up for work after a "sick day" with goggle tan lines. Those who do ski or board look down upon the nons for their constant complaining about the ridiculous cost of winter sports, the damn cold, the stupid snow and driving conditions. This gap must be bridged. Let's all think about snow sports while drinking our to-go flight today, Peaks and Pints Pilot Program: Pray For Snow On The Fly. Yes, Peaks & Pints is praying to the mythical Norse God of Snow, Ullr. We're ready to strap them on. Cheers!
Peaks and Pints Pilot Program: Pray For Snow On The Fly
Scuttlebutt 20 Weeks of Pow
6.4% ABV, 16 IBU
Powder is the sweetest type of snow. It's the freshly fallen snow that's sitting on the mountainside waiting for someone to come along and break it in for the day. Peaks & Pints hears our guest talk all the time about their "sweetest powder day." Obviously, Scuttlebutt Brewing is a fan of powder. They named their winter IPA 20 Weeks of Pow. Brewed with Washington Grown Sabro, El Dorado, and Cashmere hops, expect passionfruit and guava on the nose followed by pleasant, subdued bitterness with notes of tangerine and stone fruit.
Rogue Yellow Snow Pilsner
5.5% ABV, 19 IBU
Remember not to eat yellow snow. Peaks & Pints doesn't care what the older guys at the playground tell you, eating yellow snow will not give you super powers or a beard. Take our word on it. Do drink Yellow Snow! Rogue Ales brewed Yellow Snow IPA for 15 years, but in 2019 the Oregon brewery decided to make a beer reminiscent of our Pacific Northwest winters. They turned Yellow Snow into a crisp pilsner made with spruce tips from their own backyard. It has a sweet toffee and berry flavor with herbal notes, bubblegum and a smooth, fruity finish.
Dru Bru Bru Ski Patrol
4.8% ABV, 26 IBU
Of course Dru Bru brewed a beer paying homage to the ski patrol — the brewery sits at the base of The Summit at Snoqualmie ski area. This German dark lager has layers of toast, chocolate, and dark caramel malt flavors. A touch of German-grown hops provides herbal and spicy notes to create this easy-drinking dark lager inspired by a Munich-style dunkel.
Bale Breaker High Camp Winter IPA
7.3% ABV, 84 IBU
Named for the ski lodge atop of White Pass Ski Resort, High Camp IPA takes Bale Breaker's signature hop-forward style to a darker side with the addition of chocolate malts for malty backbone of spice and chocolate. Dry-hopped with Cascade, Centennial, and Mosaic, the hop character in High Camp bursts with pine and grapefruit.
---