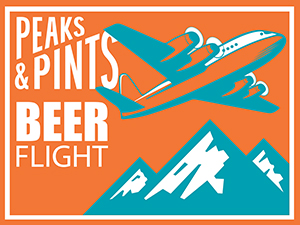 There are two kinds of people in this world: those who like pineapple-and-ham pizza and those who are pitied by the first group. Granted, the idea of eating pizza with pineapple on it sounds a little funky — until you try it. Once you do, the gates of understanding open and the pizza-delivery vehicle drives straight through to the brain's pleasure center. The same can be said about pineapple flavored craft beer and cider. After the fist sip, the gates of understanding open and the beer-delivery vehicle drives straight through to the brain's pleasure center. Fruit lends a perceived sweetness to the beer, which cuts through a lot of the bitterness of hops. Today, Peaks and Pints presents pineapple as our to-go beer flight of the day, Peaks and Pints Pilot Program: Pineapple On the Fly.
Peaks and Pints Pilot Program: Pineapple On the Fly
The Bruery Terreux Frucht: Pineapple, Dragon Fruit and Prickly Pear
4.5% ABV
Founded in 2008 by Patrick Rue, The Bruery began when Rue, a recent law school graduate and homebrewer, figured out that he loved the hobby so much, he'd start a brewery instead of studying for the Bar. Later, in 2015, Rue launched Bruery Terreux — loosely translated as "Earthy Brewery" — as a dedicated space to provide the freedom (and bacteria) to get weird with wild and sour ales. One of Rue's oak foeders is dedicated exclusively to Frucht, his series of fruited Berliner weisse-style beers. This tropical installment has pineapple, dragon fruit, and prickly pear added.
Nightmare Gunga Rao Sour IPA
8.3% ABV
Alexander The Great has a fondness for elephants with blades strapped to their feet, which would viciously crush foes, a technique known as Gunga Rao. Nightmare Brewing has a fondness for exotic ingredients, which is such the case with their sour IPA, Gunga Rao. Soured on pineapple and coconut, the IPA is also brewed with Moroccan mint, and a hop blend of Sabro, Kohatu and Cashmere. The result crushes with the taste of a hoppy, tropical, fruit-forward gose.
Matchless Hop Nectar
8.2% ABV
Vic Secret is an Australian hop known for its bright tropical character of pineapple, pine, and passionfruit. The hop is the star of Matchless Brewing's Hop Nectar double IPA. Sweet sticky hop nectar has fallen from above with notes of pineapple, honeydew, and orange citrus. Vic Secret along with Huell Melon, and Amarillo hops combine for one smooth hazy double IPA on a bed of Pilsner malt and flaked wheat. And it's all tied together with Juice yeast. Not to be confused with the other "nectar" in a can.
Trap Door Juiced Up
8.3% ABV
Trap Door Brewing's Juiced Up hazy double IPA is double dry hopped with Citra, Mosaic, Simcoe, and Strata, the last hop being a multi-layered, one-stop-shop hop crafted by Oregon State University. Strata offers flavors of pineapple, as well as grapefruit, passionfruit and pine on the tongue. Drinking Juiced Up is like drinking pineapple juice straight from the can.
---