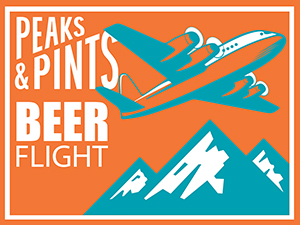 Where IPA fans might have once chosen a beer based on strength — regular; potent imperial; lower-alcohol session — there's now a veritable tropical fruit salad of flavors to choose from: pineapple, grapefruit, mango, tangerine, tangelo, prickly pear. After Ballast Point began adding fruit flavors to their Sculpin IPA, brewers began experimenting with different IPAs, using a Belgian yeast to impart fruitiness, playing around with fresh pineapple juice and organic extracts, and brewing with hops that produce tropical flavors such as Sabro, El Dorado, Galaxy, and Strata. Peaks & Pints continues our sunshine-inspired to-go beer flights; today it's IPAs that carry notes of pineapple. We're calling the flight, Peaks and Pints Pilot Program: Pineapple Notes On The Fly.
Peaks and Pints Pilot Program: Pineapple Notes On The Fly
Little Beast Circle Cutter
6.5% ABV
Two years before Little Beast Brewing opened in Beaverton, Oregon, co-founder Charles Porter was brewing at Logsdon Farmhouse Ales in Hood River. Porter, along with business and life partner, Brenda Crow, harness the "little beasts" that ferment their beer, producing farmhouse and sour beers that are diverse in flavor and rare in character. They also brew delicious IPAs, including Circle Cutter notes of pineapple, tangerine, and orange citrus, amplifying the natural fruit characteristics from Trident and El Dorado hops.
Ruse Brain Glow
7.2% ABV
Shaun Kalis and Devin Benware began brewing their Ruse Brewing beers on a big system before Ruse was a thing. When not brewing for Tomas Sluiter at Culmination Brewing, whom they originally worked under at the Old Market Pub & Brewery in Multnomah Village, they used Tom's tanks to make their Ruse beer. Kalis and Benware moved into their big southeast Portland facility a little over two years ago. Their Brain Glow is a hazy IPA brewed with all Ruse's favorite adjuncts and dry hopped with dramatic amounts of Mosaic, Galaxy, and Citra for notes of pineapple, citrus, peach, mango juice.
Ex Novo Myriad Reflector
7.2% ABV
Back in 1917, Louis Bernard Woeste of Newport, Kentucky, filed a patent for a Myriad Reflector. It wasn't the first mirrored ball ever, but Woeste was the only one to stake a claim with an official patent. Woeste's 27-inch "magnificent globe" was covered with "more than 1200 special-made mirrors," and hung above to ballrooms, skating rinks, and Studio 54 in Manhattan's Broadway District. Ex Novo Brewing's version is covered with Sabro, Strata, and Amarillo hops for aroma of tropical fruit cocktail, with massive notes of pineapple, coconut, lime, strawberries, mango, and platform shoes.
Top Rung Oly & Scout Hazy IPA
7.5% ABV
Top Rung Brewing beertender Brittany has 13-year-old English Springer Spaniel brothers that are partners in crime. They love counter surfing for snacks and snatching distracted little kids' plates of food. They also love to fart — long, slow squeaky farts. When not farting, Oly plays with old tennis ball and Scout searches for snuggles. Oly & Scout, the hazy IPA, is brewed with Nugget, Mosaic, and Strata, then double dry hopped with Strata, Centennial, and Cascade for a nose of light, fresh floral, dank, and absolutely zero whiffs of farts. On the tongue, expect tropical fruits, bright pineapple, orange and citrus.
Black Raven Tropical Trickster
6.9% ABV, 60 IBU
In mythology, the raven can play tricks or otherwise disobey normal rules, hence the name Trickster. Black Raven Brewing's well-balanced Trickster IPA has a light fruit, citrus and piney hop aroma with a full hop flavor. Tropical Trickster is the new springtime spin on their best-selling Trickster. They brewed it with slightly less bitterness to let the tropical flavors of pineapple and mango juice stay bright and sunny.
LINK: Peaks & Pints cooler inventory
---