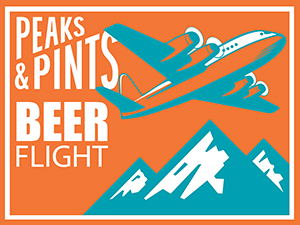 In the world history of beer, pilsners are relatively recent. Around 1840, eons before marketers invented "drinkability," Czech brewers in Bohemia created pilsner, a light beer that didn't taste like bath water. The primary source of the innovation was the use of bottom-fermenting yeasts, which yielded a livelier, more consistent beer than the traditional top-fermented brews. Today, the best pilsners are still found in continental Europe, partly because of demand and partly because it's home to the style's signature Saaz hop, Pilsen's soft water and crackery, paler malt. German and Bavarian styles tend to emphasize bitterness and spicy hop flavor. But stateside, craft brewers borrow freely from both approaches and put a more personal flare — typically more hops — on the style. United States craft brewers have refused to let mass-produced, adjunct-laden, flavorless-at-best light lagers be the standard and Peaks and Pints salutes that effort with our Peaks and Pints Pilot Program: Pilsners On The Fly.
Peaks and Pints Pilot Program: Pilsners On The Fly
pFriem Pilsner
4.9% ABV, 38 IBU
pFriem Family Brewers Pilsner may be the lightest beer we've ever seen. It pours with a delicate green tint, a fluffy white head, and a crystal-clear complexion. Pastoral aromas of flowers and meadow grains combined nicely with a typical maltiness to provide what we could only describe as a "pilsner" scent. The taste is the best part, though, with a deep dryness at the back of the mouth and the faint minerality that's so crucial to a pilsner. pFriem's Pilsner goes down easy as a breeze.
Occidental Northwest Pilsner
5% ABV
Occidental Brewing collaborated with their friends in New Zealand, Hollingbery And Son Hops, on this latest installment of their Northwest Pilsner Series, following in the bootsteps of Baerlic Brewing, Heater Allen, Buoy Beer, Foreland, Level, Von Ebert, Kulshan Brewing and others. Yes, Hollingbery And Son aren't located in the Pacific Northwest, and the main hop in the pilsner, Pacific, is a New Zealand product, but the Portland brewery IS located in the Northwest, so let's move on to the pilsner's mild tropical accent and earthy, clean taste.
Moonraker Dry Hop Pils
5% ABV
Moonraker Brewing Co. opened in 2016 in the same Auburn, California industrial park as Knee Deep Brewing, and was later honored as the ninth-best new brewery in the world by RateBeer, a resource for craft beer enthusiasts. Their Dry Hop Pils is a deliciously crisp, yet not overtly light, hop-forward pilsner made with Admiral Pils malt and Motueka hops. Expect a bitter finish that's rounded out with mild fruit notes of lychee and melon.
Kulshan Plank Brothers
5.2% ABV
Kulshan Brewing's Pilsner won Peaks & Pints Tournament of Beer: Northwest Pilsners in the spring of 2019. Kulshan's Pilsner beat 63 other Northwest brewed pilsners to take home the championship trophy. The pilsner experts brewed another pilsner, this time with the help of The North Fork Brewery in Deming, Washington, east of Kulshan's Bellingham locations. Their Plank Brothers Pilsner offers crisp malt notes and a spicy, floral hop bouquet accentuated by citrus and red berry notes, thanks to Ariana, Saphir, Belma, and Lotus hops.
Holy Mountain Drinking The Cup of Judgment
5.4% ABV
Holy Mountain Brewing Drinking The Cup of Judgment is a hoppy pilsner brewed with German Pilsner and Chit malt and hopped throughout with Spalter Select, Styrian Golding, and Galaxy before lagering for over a month at near freezing temperatures. This beer is hoppy yet well rounded and refreshing.
Pelican Superswell Double Swell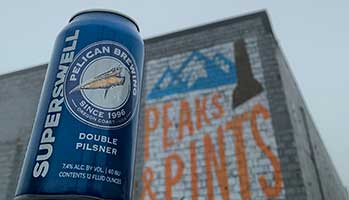 7.4% ABV, 60 IBU
An undersea volcano erupted in spectacular fashion near the Pacific nation of Tonga on Saturday, sending large tsunami waves crashing across the shore and people rushing to higher ground. A tsunami advisory in is effect for the West Coast, including Oregon and Washington. The National Oceanic and Atmospheric Administration expects initial 1- to 3-foot waves will meet the Oregon Coast between 8 and 9 a.m., where the four Pelican breweries and brewpubs sit. Our guess Pelican Brewing's Superswell Double Pilsner will be their most popular beer today. Hopefully people will enjoy the spicy and herbal notes, toasty biscuit flavor, and assertive, clean bitter beachside instead Oregon higher ground, although evacuation isn't advised.
LINK: Peaks & Pints cooler inventory
---