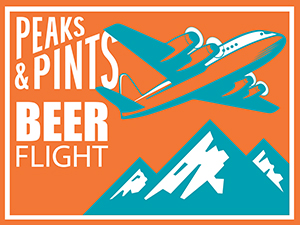 Oct. 17, 1989, Charles and Rose Ann Finkel opened the Pike Place Brewery, as it was then known, in the old Liberty Malt Supply space under the Pike Place Market on Western Avenue in downtown Seattle, which was later re-named Pike Brewing Co.  In May, 2021, Portfolio holding company Seattle Hospitality Group, or SHG, announced it invested in Pike Brewing. Conversations between Pike and SHG started in 2018, but COVID-19 and the passing of Pike Brewing co-founder Rose Ann Finkel, Charles Finkel's wife, delayed the deal until last spring. With the SHG investment comes a modern brand redesign, including can labels, and two new faces in the brewhouse: Head Brewer Leslie Shore and Brewery & Quality Manager Barbara Beaver. Tonight, Peaks & Pints hosts Charles Finkel, and Barbara Beaver as we tap Pike's new beers, revamped beer recipes, and celebrate their brand redesigned with a special night at our craft beer lodge in Tacoma's Proctor District. Since Thursday is also World Rhino Day, we're also hosting Point Defiance Zoo & Aquarium's Drinking for Conservation folks to raising money to save rhinos. For every draft pour during the event, Peaks & Pints will donate a dollar toward efforts to save rhinos. In celebration of tonight's event, we also present an all-day, to-go flight of Pike's old and new beers — a flight we're calling Peaks and Pints Pilot Program: Pike Beer Flight.
Peaks and Pints Pilot Program: Pike Beer Flight
Pike Post Alley Pils
5.5% ABV
Pike's Post Alley Pils takes its name from the alley behind the brewery in Pike Place Market — Post Alley. Take the flight of stairs near the fish market down to Post Alley and you'll discover a colorful, gum-covered wall that, since the 1990s, has become an unusual tourist attraction. The Gum Wall's gummy beginnings go back to a time when patrons of Market Theatre stuck their gum on the wall while waiting to attend one of the productions. Post Alley Pils is crisp, clean, and crushable. Light German malts and whole leaf Mosaic hops yield floral and light melon flavors, big aroma, and a dry finish.
Pike Kilt Lifter Scotch Style Ale
7.6% ABV
Pike's best-selling Pike Kilt Lifter Scotch Style Ale is a ruby-colored, low-bittered malty ale that will transports us to 19th century Scotland, where this style has its roots. There's a subtle underlying smokiness from the addition of a small amount of peated Scotch whisky malt, which adds complexity. Warm fermentation produces fruity esters and balances the sweet malt character, as well as oaky vanilla and light tobacco. Layers of rich, sweet, powerful earthy malt — like freshly baked bread — makes Kilt Lifter great by itself or with Peaks and Pints' sandwiches. 
Pike Monk's Uncle
9% ABV
Pike Brewing Company's founders and owners, Charles and Rose Ann Finkel, introduced American beer drinkers to Belgian beers in the 1980s through their craft beer importing company, Merchant du Vin. Pike Monk's Uncle is their only year-round Belgian style beer and continues the tradition of introducing American palates to the joys of Belgian style beers. This Belgian style tripel pours traditional golden straw color of the style together with a solid lacy head that remains throughout. There is an overall fruity background flavor to this brew, with just a hint of honey and a touch of spice.
Pike Uptown Hazy IPA
6.2% ABV
Leslie Shore joined Pike Brewing this past June as its head brewer. Previously, Shore spent six and a half years as lead brewer at Reuben's Brews. Also new to Pike is Barbara Beaver who hails from Georgetown Brewing and is taking on the role of Brewery & Quality Assurance Manager. Together, they created pillowy, smooth Uptown Hazy IPA brewed with Citra, Simcoe, El Dorado, Idaho 7, and Azacca for tropical notes.
Pike Space Needle IPA
7.2% ABV
Pike's original Space Needle IPA was a hoppy and floral West Coast style IPA generously brewed with four varieties of Yakima Valley aroma hops, which was then dry hopped with whole-cone hops, which impart a floral aroma that won a beer competition to be the commemorative beer of the Space Needle's 50th anniversary in 2012. It was so well received that it was added to Pike's year-round collection. Pike new head brewer, Leslie Shore, has updated the recipe adding citrus and pine notes.
LINK: Peaks & Pints cooler inventory
---
Category:
Beer Line Blog
,
Craft Beer
,
Critical Drinking
,
Drinking For Conservation
,
Events and Festivals
,
Green Crush
,
Houses of Craft
,
In The Cooler
,
New Releases
,
Peaks and Pints Lodge Meetings
,
Peaks and Pints Pilot Program
,
Shop
,
Specials
,
Tacoma events
,
Taps Takeovers