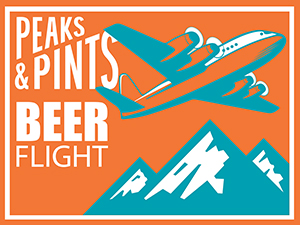 We celebrate just about every special occasion (i.e., birthdays, really good weeks, and sometimes really bad weeks) with doughnuts. And while Tacoma doughnut options are more than plentiful, we've somehow exhausted our local options and began craving something new AND something worth celebrating, which meant it needed to involve craft beer. Happy National Peanut Butter Day! Seriously, it's today. Skipping doughnuts, we're celebrating with a to-go beer flight that combines our love of peanut butter and craft beer. Go nuts over our Peaks and Pints Pilot Program: Peanut Butter Day Flight.
Peaks and Pints Pilot Program: Peanut Butter Day Flight
Drekker CHONK Cherry Drumstick
6% ABV
In September 2014, after seven years of homebrewing, writing business plans, watching Viking movies, and dialing in their branding, scientist Mark Bjornstad, builder Darin Montplaisir, businessperson Jesse Feigum, and engineer Mason Montplaisir opened Drekker Brewing Company in what was once North Dakota's most rough and rowdy frontier town, Fargo.  Their Cherry Drumstick Chonk is a decadent pastry sour stuffed with peanut butter, cherry, vanilla soft serve ice cream, waffle cones, lactose, and chocolate.
Belching Beaver Peanut Butter Milk Stout
5.3% ABV

This San Diego-brewed, 2014 World Beer Championships silver medalist milk stout hits a nostalgic note: Peaks and Pints remembers how good a creamy peanut butter sandwich tastes with a glass of milk. That same luscious, nutty peanut butter flavor flows alongside coffee creamer richness; slight coffee roast and peanut butter on our noses before a lightly roasted, bitter finish.
Left Hand Peanut Butter Milk Stout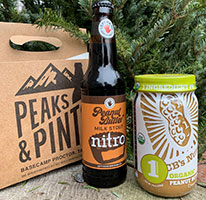 6.2% ABV
Left Hand Brewing, industry pioneers in nitro beer styles and technology, brews Peanut Butter Milk Stout Nitro. The addition of nitrogen to their traditionally carbonated Peanut Butter Milk Stout combines Left Hand's signature super smooth mouthfeel and hypnotic cascade with a flavor profile exuding peanut buttery bliss and notes of milk chocolate. Remember to pour hard from the bottle for a pillowy head and velvety mouthfeel.
Matchless Treat
9.5% ABV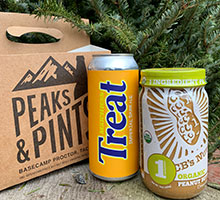 Matchless Brewing brewed an imperial brown ale with notes of chocolate and toffee and blended it with some fresh and some barrel-aged imperial stout. To top it all off they added peanut butter and chocolate for a "one-of-a-kind, crispety, crunchety, peanut-buttery Treat," says Matchless. Peaks & Pints says it tastes like unsweetened peanut butter with milder chocolate and caramel notes.
LINK: Peaks & Pints cooler inventory
---