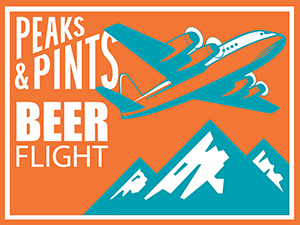 People are nuts for the stuff, and not just schoolchildren cash-strapped college kids. Peanut Butter is great for removing crayon off wallpaper. It won't fade the color. If you're headed to a 1950s style dance peanut butter is easier to remove from hair than Vaseline. Peanut butter works taking rings and age spots off wooden furniture. Peanut butter (creamy) is an excellent product for removing tar and pitch off cars, scratches out of Plexiglas, and pen marks off leather furniture. You can polish stainless steel with peanut butter. Eating peanut butter makes a great quick fix for the hiccups. Last, adding peanut butter to beer delivers satisfying flavors that call back to childhood. Peaks & Pints presents two flights today — Monday, Jan. 24 — our regular Monday Cider Flight (ciders from Willamette Valley this week) and this peanut butter to-go beer flight in honor of today's National Peanut Butter Day. Stop by our Tacoma Proctor District craft beer bar, bottle shop and restaurant and go nuts with Peaks and Pints Pilot Program: Peanut Butter Beer On the Fly.
Peaks and Pints Pilot Program: Peanut Butter Beer On the Fly
Belching Beaver Peanut Butter Milk Stout
5.3% ABV, 30 IBU
This San Diego-brewed, 2014 World Beer Championships silver medalist Belching Beaver Brewery milk stout hits a nostalgic note: Peaks and Pints remembers how good a creamy peanut butter sandwich tastes with a glass of milk. That same luscious, nutty peanut butter flavor flows alongside coffee creamer richness; slight coffee roast and peanut butter on our noses before a lightly roasted, bitter finish.
Wild Ride Nut-Crusher Peanut Butter Porter
6% ABV, 18 IBU
Let's talk love. Peanut Butter. It transports us to a happier, simpler age. It's not a candy thing. It's a comfort thing. Redmond, Oregon's Wild Ride Brewing brings together two favorite flavors — peanut butter and porter — in this liquid chocolate truffle treat with a strong nuttiness. Nut Crusher is a beer that's almost as fun, if not more fun, to sniff for a while before actually drinking it. You'll eventually drink it because Peanut Butter Cups are your life.
Lucky Envelope Peanut Butter Cream Stout
6% ABV, 34 IBU
Lucky Envelope Brewing's Peanut Butter Cream Stout contains real peanut butter infused with the cocoa, coffee, and light roast flavors of our cream stout. Aromas of peanut butter and milk chocolate with light roast hit the nose, followed by chocolate, roast, and peanut butter. Lactose and flaked oats add a smooth creaminess to balance out bold dark malts.
Left Hand Peanut Butter Milk Stout
6.2% ABV, 25 IBU
Rhythm and Blues. Batman and Robin. Peaks & Pints and the Proctor District. Peanut Butter and Chocolate. These classic duos never go out of style. Enter Left Hand Brewing Peanut Butter Milk Stout. The Longmont, Colorado brewery took the pure milk chocolate bliss of their classic Milk Stout with Chocolate malt, rolled oats, and roasted barley, and added peanut buttery goodness. It's rich and decadent on the palate and lusciously lingers into a nutty, dry finish.
Belching Beaver Viva La Beaver
7.5% ABV, 28 IBU
Kick your peanut butter fix up a notch with Belching Beaver Brewery's Viva La Beaver Mexican Chocolate Peanut Butter Stout. Sometimes named just Mexican Chocolate Peanut Butter Stout (confusing!), and prior, Living La Beaver Loca, this award-winning beer offers flavors of creamy peanut butter, cinnamon, and cocoa nibs. Peaks and Pints also picks up notes of roasted coffee, cookie dough, fudge, brownie batter, cappuccino, toffee, and dark roasted malts upfront, as well as a little vanilla on the mid-palate. This decadent milk stout is the definition of pastry stout.
Imprint Peanut Butter Banana Dulce Apocalipsis
12% ABV
Founded in 2017 and open since 2018 in Hatfield, Pennsylvania, Imprint Beer Co. has gained a loyal following in the beer community with its diverse and innovative offerings, from juicy IPAs to sweet pasty stouts, heavily fruited smoothie sours to traditional German lagers. L' équipe Pátisseree got their hands on part of Imprint's Dulce Apocalipsis stout and added 50 pounds of peanut butter along with the Thai banana to create the Peanut Butter Banana Dulce Apocalipsis. While the peanut butter dominates the nose the banana consumes the flavor profile. Cocoa nibs add an accent of bitterness throughout.
LINK: Peaks & Pints cooler inventory
---