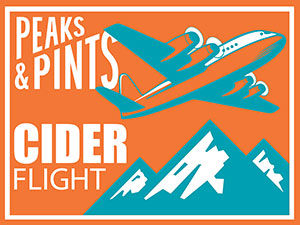 The Willamette Valley is the largest river valley in Oregon. Part of the Cascades geological province that extends from British Columbia to northern California, the valley is an elongated, relatively flat body of land extending approximately 150 miles from the Columbia River south to the Calapooya Divide. The valley's elevation, approximately 10 feet above sea level where the Willamette River joins the Columbia, rises to about 450 feet south of Cottage Grove. The Willamette Valley's agricultural underpinnings create a perfect opportunity for close relationships between cidermakers and apple orchardists where farm to table and drinking local are deeply held Oregonian values. It's Monday, which means Peaks and Pints offers a cider flight. Since we have the Willamette Valley on the brain, enjoy Peaks and Pints Monday Cider Flight: Willamette Valley.
Peaks and Pints Monday Cider Flight: Willamette Valley
Alter Ego The Guardian Angel
6.5% ABV
It's surprising to discover that the Willamette Valley is home to the six largest cities in the state of Oregon: Portland, Eugene, Salem (the capital), Gresham, Hillsboro, and Beaverton. Therefore, Peaks & Pints will include Alter Ego Cider, a Portland-made cider launched by winemakers from the Willamette Valley. Anne Hubatch, Nate Wall and Kris Wall decided to partner to craft artisanal ciders utilizing winemaking techniques during a chat session at a Portland ciderhouse. Alter Ego Cider was born. Anne has been at the forefront of urban winemaking with Helioterra Wines, Whoa Nelly Wines, and Guild Winemakers. Nate also has several years of winemaking experience, but additionally has been making cider for the past three years for one of the Northwest's largest cider producers. Anne and Nate bring a winemakers focus on nuance, delicacy, and depth to their small batch production cider. Their blueberry and pomegranate cider, The Guardian Angel, celebrates Northwest summer berries. It offers deep garnet purple color, brambly berry notes and fresh fruit characteristics of both the apple and blueberry, with hints of pomegranate added for a zippy kick. This cider is semi sweet, and perfectly balanced and refreshing.
Bauman's Spiced Grapefruit
6.8% ABV
In 1895, on the West Coast, between Salem and Portland, Bauman Farms was first homesteaded by Elizabeth Bauman and her teenage sons, Stephen and Leo. Stephen eventually married at the cider apples on their Gervais, Oregon, farm, with the barrels in their barn fermenting the goods into hard cider. When beer production arrived with German immigrants, cider's popularity diminished. But it was 20th century Prohibition that ended most U.S. cider production, including Stephen Bauman's operation. The Bauman's turned to dessert apple growing. His great granddaughter, Christine Walter, armed with a degree in biochemistry from Lewis & Clark University, revived her great grandfather's hard cider operation, taking advantage of the family farm history spanning five generations, her work ethic growing up on the farm and modern-day cidermaking methods. She opened Bauman's Cider Company in 2016, honoring Stephen Bauman on the cider's branding. Her Spiced Grapefruit cider is lightly sweet made from apples, grapefruit, sugar, cinnamon, cloves, cardamom, and ginger.
2 Towns Cosmic Crisp
8% ABV
In late 2010, Corvallis homebrewers Aaron Sarnoff-Wood and Lee Larsen filled a gap in the college town's drinking scene — cider. The duo opened 2 Towns Ciderhouse crafting unique ciders brewed with the traditional English and French-style's tannic apples, Willamette Valley grown, of course — although Cosmic Crisp apple is the work of 20 years of study and research by Washington State University, resulting in a classically bred hybrid of Enterprise and Honeycrisp apples. The resulting fruit is a large, round, crisp, and super juicy apple that is perfect for snacking, baking, and, perhaps most importantly, cider making. Crafted from a resplendent blend of fresh-pressed juice from its namesake, Cosmic Crisp, and other Northwest apples, 2 Towns' Cosmic Crisp shines with strong notes of white currant and pineapple blossom off of a platinum-colored cider that is as crisp and sparkling.
Art+Science Prairie Dog
9% ABV
Kim Hamblin is the artistic side and formally known as "artistic director" and "head apple picker." Dan Rinke is the science and oversees the magical fermentation processes and the growing of the orchards. In 2011, they launched Art+Science, a natural cider, perry, and wine company using foraged, organic, or biodynamic fruit and fermenting with indigenous yeast in rural Yamhill County in the upper left reaches of the Willamette Valley. The maverick cidermakers use the ancient technique of using clay pots to ferment — thanks to Novum Ceramics. Their Prairie Dog is a petnat cider made from apples harvested from Koosah Farms and fermented with native yeast in Novum's terra cotta pots. The cider hits the nose with dried stone fruit aroma with a little funky baked apple flavor.
LINK: Peaks & Pints cooler inventory
---