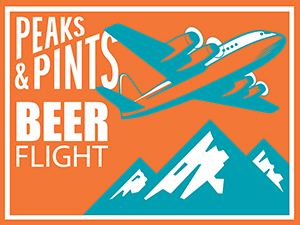 Peaches? Nectarines? Many people prefer one over the other. Some say that nectarines are juicier or peaches sweeter (or vice versa). Surprise! The nectarine is actually a type of peach, except that it has a smooth skin compared to a peach's velvety one. Basically, one tiny recessive gene keeps it from being a peach. Beer made with peaches and nectarines is particularly popular with brewers both traditional and innovative, and sipping on a peachy brew is a tasty way to prepare for that summer feeling. Peaks and Pints presents a to-go peach beer flight we call Peaks and Pints Pilot Program: Peach On The Fly.
Peaks and Pints Pilot Program: Peach On The Fly
Varietal Nectarinia
4.9% ABV
Varietal Beer Co. was originally imagined as an experimental brewery project, however with additional investment and with the assistance of the Port of Sunnyside, the project expanded to include a full brewery, taproom and barrel program. Their Nectarinia farmhouse ale was brewed with Washington grown Purple Egyptian and Scots Bere heritage barley from LINC Malt. A long secondary fermentation on 400 pounds of nectarines from Upland Farm in Sunnyside along with Brettanomyces yeast produced the bright, funky nectarine flavor, effervescence and good tart zip.
Ecliptic Carina Peach Sour
5.5% ABV, 10 IBU
Ecliptic Brewing's Carina Peach Sour Ale — a year-round delight — takes its name from the constellation Carina, the keel of the ship Argo in the southern sky. Loaded with fresh peach flavor, Carina hits the nose with peach. It launches with sweet peach flavors, and lively mouthfeel. The Lactobacillus gives the craft beer a complex combination of flavors and aromas.
Double Mountain Pêche Cuvée
9.3% ABV
Release last November, Pêche Cuvée is Double Mountain's Pêche Mode aged in oak barrels. The Belgian style sour ale is aged for nine months on Hood River peaches, our special house yeast, and Brettanomyces. Then, it's aged an additional year in French oak barrels. It hits the nose with prickly acidity, sour peaches, oak, and light white wine. The tartness isn't as strong as the nose would suggest. There's lots of macerated overripe juicy peach flavor, with a drying oak character, and a hint of white wine. There's a little bit of sharp Brett funk too.
Ninkasi Peach Maiden The Shade
6.8% ABV, 72 IBU
First brewed in 2009, Peach Maiden In The Shade IPA captures a complex hop profile — bold, dank and bursting with floral notes — and an exceptional drinkability with a crisp malt base consisting of 2-Row Pale, Vienna, and Flaked Barley with a vivacious array of Northwest hops — Summit, Centennial, Simcoe, Columbus, Crystal, Palisade, Amarillo and Magnum — for aroma of pot, pine, grapefruit and tropical fruit followed by pine, grapefruit rind, mango, and roasted malt flavors. Then, the Eugene brewery added peaches to Maiden's life overpowering the pine and malt for more of a peach and grapefruit IPA.
---