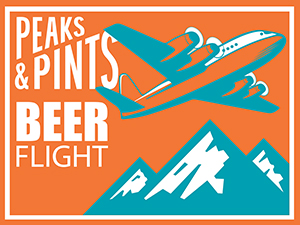 You might have eaten your gingerbread house months ago, but if you have any gingerbread cookies left in your freezer, today's the day to thaw. Happy National Gingerbread Day! While that may sound strange, on June 5 each year, gingerbread lovers across the country celebrate by sampling their favorite recipes and gingerbread treats. Whether in the form of bread, cakes, bars, biscuits, or cookies, let's face it — they're delicious any time of year. In regard to pairing beer with gingerbread, American-style barleywines, English milds, English IPAs, and even Russian imperial stouts will bring out the molasses and brown sugar in gingerbread concoctions. Peaks & Pints scoured our cooler for said beers and found a few. Stop by our Tacoma craft beer bar, bottle shop and restaurant and enjoy our to-go beer flight — Peaks and Pints Pilot Program: Pairing Gingerbread On The Fly.
Peaks and Pints Pilot Program: Pairing Gingerbread On The Fly
Machine House Stinging Nettle Ale
5.4% ABV, 24 IBU
The weed stinging nettle (Urtica dioica) has bristly hairs that act as a hypodermic, injecting an irritant under the skin when touched. But why would you want to drink a weed, much less one that stings? Cooking removes the stinging effect of the leaves. Before the popularity of hops, stinging nettles were used in English beer as the main bittering agent. Ah, it all makes sense now. Every year, Machine House rides the ferry to Vashon Island, hand picks fresh young nettles, then adds them to malty wort in the brew kettle. The result is a delicious, spicy, and herbaceous ale.
Hair of the Dog Fred
10% ABV
Fred Eckhardt's book, A Treatise on Lager Beers, published in 1969, was the first modern book about beer. During his stint as the Oregonian's first beer columnist he penned The Essentials of Beer Style, helping many homebrewers understand their craft and in turn helped launch many craft brewing careers, including Hair of the Dog's Alan Sprints, who created an American Strong Ale simply named Fred. Fred, the beer, is a deep golden color. It is made with aromatic and rye malts and includes 10 different hop varieties — Northern Brewer, Progress, First Gold, Crystal, Fuggle, Willamette, Tettnang, Chinook, Spalt, Saaz and Strisselspalt for caramel, bitter hops and some alcohol.
Dieu du Ciel Solstice d'Hiver
10.2% ABV
Brasserie Dieu du Ciel!, the tiny brewpub at the edge of Montréal's city center, is a common exclamation, meaning "God in Heaven!" more or less, which is undoubtedly the politest oath you are likely to hear in Montréal — a city with a well-known penchant for turning religious sentiments into profanity. The brewery's holiday Solstice d'Hiver barleywine is delicately sweet and liquor-like with a hint of burnt caramel coming from the malt and a prolonged boiling time. It is a very bitter beer with aromas of hops and alcohol, and flavors reminiscent of red fruit brought by the English-type yeast they use to ferment it. The aftertaste is accentuated by the wonderful flavor of hops.
Sierra Nevada Barrel-Aged Narwhal
11.9% ABV, 50 IBU
Barrel-Aged Narwhal is Sierra Nevada Brewing's deliciously dark imperial stout aged in Kentucky bourbon barrels. Barrel aging calms Narwhal's aggressive roastiness, but the rich, chocolate-like malt backbone is brought to the fore. Black as midnight, this intense stout is complex with notes of cocoa and espresso balanced with hints of vanilla and toasted coconut from the oak casks.
Deschutes The Abyss 2020
11.7% ABV
The 15th edition of Deschutes Brewery's The Abyss barrel-aged imperial stout made its official debut last November in the Deschutes pubs on Bond Street in bend and Portland's Pearl District location. It was eventually shipped across the nation, including Peaks and Pints in Tacoma's Proctor District. As always, The Abyss is actually a mixture of several stouts. It's brewed with black strap molasses and licorice, with vanilla beans and cherry bark added. Half of the results are then barrel-aged — 21 percent in oak bourbon barrels, 21 percent in oak wine barrels, and the remainder in brand-new American oak barrels — and the mix is what's provided in the wax-topped bombers. The 2020 imperial stout contains flavors of chocolate, licorice, coffee, molasses, vanilla, cherries and wood — all in perfect balance.
LINK: Peaks & Pints cooler inventory
---