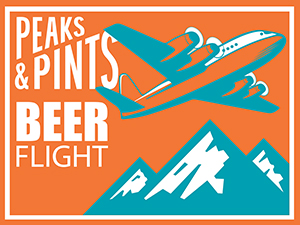 There might not be azure crests and tepid tides, no bathing beauties reclining on sparkling sand, no barefoot strolls through the moonlit surf. No, Tacoma's Commencement Bay is a stern and hungry body of water, commanding respect and resolve as steely as its gray-green sheen … now with more Trashoctopuses. The Tacoma Ocean Fest kicked off Friday night with the first-ever Lantern Paddle for Species followed by yesterday's Tacoma Shoreline Survey & Cleanup, an annual partnership between Tacoma Ocean Fest, The Ikkatsu Project and South Sound Surfrider picking up shoreline trash and tossing into giant metal sculptures that double as a temporary trash-cans. Organized by former News Tribune art critic, musician, and dock jumper Rosemary Ponnekanti, today is the Ocean Fest's main celebration with artists, performers and booths open to the public 10 a.m. to 5 p.m. at the Foss Waterway Seaport. In celebration, Peaks & Pints presents a to-go flight of ocean-themed beers for you to enjoy after the festival. Swing by our craft beer bar, bottle shop and restaurant in Tacoma's Proctor District and grab Peaks and Pints Pilot Program: Ocean Fest On the Fly.
Peaks and Pints Pilot Program: Ocean Fest On the Fly
7 Seas Red Raspberry Sour
4.7% ABV, 8 IBU
You can't talk ocean-themed beer without mentioning 7 Seas Brewing. Founders Mike Runion and Travis Guterson opened 7 Seas Brewing in 2008 with their production facilities and taprooms within a stone's throw of water, including their new taproom along the Gig Harbor waterfront. Their new Red Raspberry Sour is another version of their gose-style sours — this time brewed with raspberry purée for a tart, fruity and refreshing boat beer.
Buoy Helles
5.3% ABV, 19 IBU
Situated on the planks of the Riverwalk overhanging the Columbia River, Buoy Beer has established itself as a treasure of the Oregon Coast. Outside, sea lions bark as cargo ships creep by. Inside, a buoy-shaped tasting tray includes an excellent craft beer, including their Helles brewed with the palest, softest German Pils malt. The Helles lager style was born on March 21, 1894 at the Spaten Brewery in Munich. Buoy Helles was born 120 years later with nothing lost in translation.
Timber Ales Intros In The Sand
7.5% ABV
The plaid-wearing outdoors enthusiast Jason Stein would leave his Upper West Side apartment in New York City and travel to Long Island to homebrew barrel-aged imperial stouts and barleywines in his parents' garage. Today, he'll brew his Timber Ales in Connecticut on 12 Percent Beer Project's big system. Stein met the folks at Resident Culture Brewing while he was visiting Charlotte, North Carolina. What started at the brewery led to a night of shenanigans at a relatives bar that had a backyard beach volleyball court. The two breweries collaborated on the pillow soft hazy IPA Intros In The Sand dry hopped with Citra, Simcoe and Mosaic hops.
Pelican Bird-Day Vol. II
7% ABV, 25 IBU
Pelican Brewing serves craft beer at four beaches along the Oregon Coast — the flagship brewery in Pacific City, as well as Tillamook, Lincoln City and Cannon Beach. Inspired by Gigantic Brewing Brewmaster Ben Love's, er, love mezcal sours, Pelican asked Gigantic to help brew a twist on this cocktail to create a uniquely balanced ale with tangerines, then aged for three months in fruity mezcal barrels. This Bird-Day collaboration marries the bright and tart flavor of tangerine with agave and hints of vanilla-like toasted oak.
Narrows OCTO IPA
7.2% ABV, 72 IBU
Enteroctopus dofleini lives under the Narrows Bridge. You might know it better as the giant Pacific octopus. It is the largest species of octopus found in the world. It has an arm span of up to 20 feet, it can jam into small cracks and holes because its beak is the only hard part of its body, and it changes color depending on its mood. Some can grow to a whopping 100 pounds over a relatively short lifespan of three to four years. The most famous giant Pacific octopus is, of course, OCTO, which graces the can of Matt Rhodes West Coast IPA. The Narrows Brewing head brewer can see the Narrows Bridge from his brewhouse as he adds Centennial, Chinook, and Columbus hops to a 2-row foundation to OCTO IPA for dank, piney bitterness from the deep.
Rogue Colossal Claude
8.2% ABV, 75 IBU
Jack Joyce co-founded Rogue Ales in the Southern Oregon town of Ashland 33 years ago. A year later, Joyce moved Rogue's production to Newport, Oregon, and hired John Maier as head brewer who rode his bike to work at the seaside brewery every day. According to Rogue, it's been a few decades since a Colossal Claude sighting has been reported, but they're certain the massive sea monster has been laying low off the coast of Newport. Word has it that after years of terrifying sailors and feasting on salmon Colossal Claude acquired a taste for hops. So, Rogue brewed this double IPA with a colossal dose of hops for citrus and floral hop aromas on the nose and a finish on the bitter side with plenty of soft pine and resinous hoppy notes.
LINK: Peaks & Pints cooler inventory
---