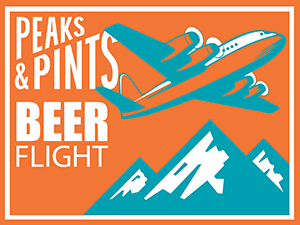 Inspired by Block 15 Brewing's collaboration series with fellow brightest graduates of Oregon State University's Fermentation Science Department, today's Peaks & Pints to-go flight highlights breweries with brewers who walked away with gowns and caps from the Corvallis university's brewing school. "Oregon State University and the Fermentation Science Department have played central roles for a large part of my life and career," says Matt Williams, Block 15 Brewery operations manager and OSU alumnus in a news release. "The opportunity to integrate them into a program that allows me to connect with other alumni with similar experiences, and to forge an even closer bond with the University, is an exciting prospect for me personally. I can't think of a better way of showcasing the best that the OSU Fermentation Science program has to offer and bringing some of our great alumni back to Corvallis to share some great beers with everyone." Stop by Peaks & Pints and grab the latest Block 15 Alumni Club beer, as well as other beers from OSU Fermentation Science Department graduates, in our flight, Peaks and Pints Pilot Program: OSU Fermentation Science Department Beer Flight.
Peaks and Pints Pilot Program: OSU Fermentation Science Department Beer Flight
Block 15 Alumni Club: Oregon Chapter
5.8% ABV
Welcoming a new member annually, the Alumni Club celebrates some of the brightest graduates from the hallowed halls of Oregon State University. Partnering with OSU alumni Rick and Lisa Allen, along with members of the OSU Fermentation Science Department, we proudly present this historical style lager. Pouring a deep golden hue accompanied by aromas of biscuit, honey and fresh hay, this modern classic features flavor notes of lemon citrus and lemongrass with a pilsner-like bitterness.
Heater Allen Schwarz Czech-Style Lager
4.8% ABV, 30 IBU
Beer is a family business for Heater Allen, a lager brewery that opened McMinnville, Oregon, in 2007. "Heater" is Rick's wife Jan's maiden name, and "Allen" is his last name. He figures that you should always give your wife first billing. While Rick has little German heritage on his side of the family, most of Jan's family is of German descent. Their daughter, Lisa, who works for the brewery, is a true Heater Allen. Like her dad, she graduated from OSU Fermentation Science Department in the early 2000s. In 2009, Lisa left a career in the wine industry to join her dad's two-man crew. Since Lisa came on the scene, Heater Allen has grown from a six-barrel to a 15-barrel brewhouse racking up a room full of medals.
Deschutes The Abyss Coconut
14.3% ABV, 40 IBU
Callan Vaccaro graduated from OSU's Fermentation Science program in 2012 before joining the Deschutes Brewery brewing team. A typical day for Vaccaro involves either brewing beer in one of the two brewhouses or jumping in the cellars to run beer through their centrifuge, CIP of fermentation vessels and bright beer tanks, yeast pulls, yeast harvesting, and tasting beer for release to packaging. The Abyss Coconut is a decadent beer with roasted coconut flakes, licorice, cherry bark, and vanilla beans on top of a rich imperial stout aged in whiskey barrels.
Crux The Velvet Underpants
6% ABV, 55 IBU
The Crux Fermentation Project in Bend, Oregon, was founded and is co-owned by Larry Sidor. He began with a degree in food science and technology from OSU in 1972 and spent time with Olympia Brewery, SS Steiner, Wapatox Vineyards, and as a brewmaster for Deschutes Brewery, in addition to service to the industry including serving on the board of the Master Brewers of the Americas. The Velvet Underpants is a silky, smooth hazy IPA brewed exclusively with Mosaic hops with tropical notes of mango, pine, and stone fruit balanced by a soft and fluffy mouthfeel.
Rogue Pineapple Punch Party
8.4% ABV, 40 IBU
In addition to Christina Canto and all the Rogue Ales past and present brewers who graduated from the OSU Fermentation Science program, the brewery also awards scholarships to the program in the name of their founder Jack Joyce who passed in 2014. The Jack Joyce Scholarship Award was created in 2014 by Columbia Distributing and Rogue Ales in honor of visionary Jack Joyce for his legacy in the Oregon community and his founding of Rogue Brewery in 1988. Jack's vision, creativity and innovation led Rogue to take daring risks that have created one of the most successful breweries and distillers in the nation. Each year students enrolled in Oregon State University's Fermentation Science program can apply for scholarship funds. Rogue's Pineapple Punch Party is an imperial hazy IPA reminiscent of a Piña Colada that bursts with pineapple, coconut, and tropical hop flavors.
LINK: Peaks & Pints cooler inventory
---