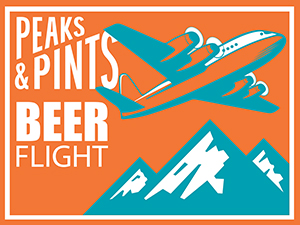 For two decades, Robert Rivers and his wife Fernanda Menna Barreto Krum worked in conflict zones around the world to promote peace and healing within communities affected by violence. They learned social change is generated more effectively when a constructive entity or group exists — in this case a brewery — where individuals feel a sense of belonging while they receive support for building and implementing skills that can better the communities in which they live. They opened Imagine Nation Brewing Co. in Missoula a little more than 5 years ago combining beer with workshops on integrative community and personal transformation and to provide a stimulating environment for local groups to conduct positive initiatives that serves Missoula. Today, Peaks & Pints presents a to-go flight on Imagine Nation beers — a flight we call Peaks and Pints Pilot Program: Imagine Nation Beer Flight.
Peaks and Pints Pilot Program: Imagine Nation Beer Flight
Imagine Nation Transrational
7% ABV
Imagine Nation released another double fruited sour ale Transrational kettle sour series beer brewed with lactose for a full body, but this time conditioned on more than 40 pounds per barrel with real raspberry, blueberry, lemon, and a touch of grade A vanilla from Madagascar. Expect huge fruit notes without being overly sweet.
Imagine Nation Liminal Space All Strata
7.2% ABV
To be in a liminal space means to be on the precipice of something new but not quite there yet. You can be in a liminal space physically, emotionally, metaphorically or drinkability. The first beer in Imagine Nation's Liminal Space series is a single hop hazy IPA brewed with 6 pounds of Strata hops per barrel. Strata is often described as having the characteristics of passionfruit and marijuana for its dank, tropical overtones.
Imagine Nation Liminal Space All Citra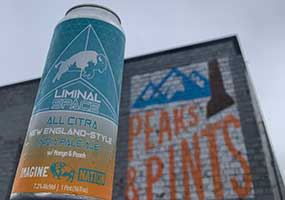 7.2% ABV
Hop Breeding Company of Yakima, Washington released Citra in 2007. It wasn't until Sierra Nevada Brewing Co. dry-hopped its Torpedo IPA two years later that the hop turned heads. Citra Brand HBC 394, as its officially known, is comprised of Hallertau Mittelfrüh, US Tettnang, Brewer's Gold and East Kent Golding with a fairly high alpha acid and total oil contents, plus a low percentage of co-humulone for bittering. Imagine Nation brewed another single hop hazy IPA for their Liminal Space series but this time with Citra hops. The single hop style allows you to fully immerse yourself in the bright mango, peach, and passionfruit nectar of the incredibly tropical hop.
Imagine Nation Lupujus 6
6.5% ABV
The latest entry in Imagine Nation's signature series of hazy IPAs, the first hazy brewed in Montana. Lupujus 6 is brewed with 6 pounds per barrel of Strata, Mosaic T90/Cryo and Citra T90/Cryo for a juicy hazy with sweet citrus and passionfruit.
LINK: Peaks & Pints cooler inventory
---