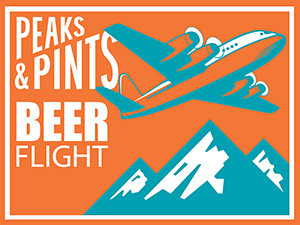 Peaks and Pints joins the top beer bars from across the globe in celebrating Orval Day 2020 today. One of the most important beers to ever come out of Belgium, Brasserie d'Orval's Orval Trappist Ale is an amber-hued Belgian pale ale that is dry-hopped, then finished with Brettanomyces. Intensely aromatic and dry, this one-of-a-kind beer is as complex as it is unique. One of only 12 officially recognized Trappist breweries across the world; all Orval beer is brewed within the walls of Notre Dame d'Orval Monastery. The alluring complexity of this iconoclastic beer has made it a world classic, one that has inspired a generation of brewers across the globe to craft bone-dry beers of mixed-fermentation. By participating in this event, you are also contributing to a great cause. On this day, Orval will donate 50 cents from each bottle sold to the Safe Water Network, which provides clean, sustainable water to Ghana and India. Stop by for Peaks and Pints Pilot Program: Orval Day On the Fly — 2018 and 2019 vintage bottles to-go for an at home taste comparison.
Peaks and Pints Pilot Program: Orval Day On the Fly
Brasserie d'Orval Orval 2018
6.2% ABV, 36 IBU
Legend has it that around 1070 AD, Princess Matilda — a Duchess of Burgundy — was traveling through the forest in what is now southern Belgium. She and her companions paused to rest at a clear spring, and when she trailed her hand in the water her gold ring accidentally slipped off her finger and quickly sank. Upset, Princess Matilda fell to her knees and prayed for the return of her ring when suddenly a trout swam to the surface with the ring in its mouth, returning it to her. She exclaimed, "Truly, this is a golden valley!" (In French, or = gold; val = valley; Orval = golden valley) and she decided to give the land to the church. The first monks arrived soon after. The 2018 vintage still has hop character up front with slight funk, faint cellar, and a dry estery finish. It cellars until 2023.
Brasserie d'Orval Orval 2019
6.2% ABV, 36 IBU
Orval Trappist Ale offers a lot to celebrate, with flavors found nowhere else: an inviting, complex bouquet; deep flavor with sharp but somehow inviting sourness; and a huge rocky head. Brewed within the walls of a monastery in Belgium, this beer is the favorite of many professional brewers around the world. The 2019 vintage is pillowy soft with abundant carbonation. It's dry, bitter and malty with some fruit and spice.
---