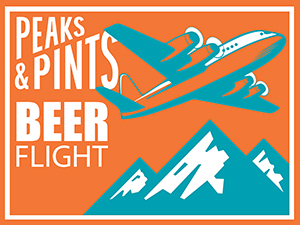 Please visit Peaks and Pints as we join the top beer bars from across the globe in celebrating Orval Day 2021 today. Orval Day celebrates a global ­flavor touchstone, a beer brewed within the walls of Belgian's Notre Dame d'Orval monastery with a thousand-year history: Orval Trappist Ale. Intensely aromatic and dry, this Belgian pale ale is as complex as it is unique. Orval is bottle conditioned with three different malts, two types of hops, and undergoes complex fermentation with multiple yeasts including Brettanomyces. Peaks & Pints will offer 2019 and 2020 vintage Orval bottles as a to-go flight, Peaks and Pints Pilot Program: Orval Day 2021 On The Fly. By participating in this event, you are also contributing to a great cause. On this day, Orval distributor Merchant du Vin will be making a charitable donation to support US hunger relief charities, including Northwest Harvest.
Peaks and Pints Pilot Program: Orval Day 2021 On The Fly
Brasserie d'Orval Orval 2019
6.2% ABV, 36 IBU
Legend has it that around 1070 AD, Princess Matilda — a Duchess of Burgundy — was traveling through the forest in what is now southern Belgium. She and her companions paused to rest at a clear spring, and when she trailed her hand in the water her gold ring accidentally slipped off her finger and quickly sank. Upset, Princess Matilda fell to her knees and prayed for the return of her ring when suddenly a trout swam to the surface with the ring in its mouth, returning it to her. She exclaimed, "Truly, this is a golden valley!" (In French, or = gold; val = valley; Orval = golden valley) and she decided to give the land to the church. The first monks arrived soon after. The 2019 vintage is pillowy soft with abundant carbonation. It's dry, bitter and malty with some fruit and spice.
Brasserie d'Orval Orval 2020
6.2% ABV, 36 IBU
Orval Trappist Ale offers a lot to celebrate, with flavors found nowhere else: an inviting, complex bouquet; deep flavor with sharp but somehow inviting sourness; and a huge rocky head. Brewed within the walls of a monastery in Belgium, this beer is the favorite of many professional brewers around the world. The 2020 vintage hits the nose with spice, sweet malt, fruits, and Belgian yeast. On the tongue, expect earthy notes, spice, herbal hops, bready malt, and highly carbonated.
LINK: Peaks & Pints cooler inventory
---