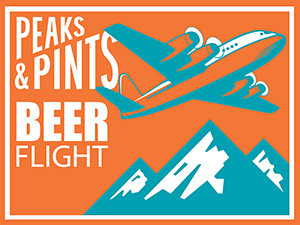 Consider the Oreo. In the 100 years since its invention, Oreo has become the representative cookie of modern American culture. Everyone loves Oreos. (Quiet down, contrarians. We said everyone loves Oreos.) Oreos are mixed into Dairy Queen Blizzards. They're used to make chocolate-y delicious pie crusts. Weird Al Yankovic wrote a song about Oreos called The White Stuff. And, they make delicious imperial porters and stouts. It's not like you didn't know there were porters and stouts made to emulate Oreos. It's a pretty obvious and common adjunct flavor profile, chocolate and vanilla. Smoosh 'em together, and that's basically an Oreo. Today, Peaks and Pints has Oero on the brain and in our to-go beer flight of imperial porters and stouts. Chocolate meets vanilla meets marshmallow meets alcohol in our flight, Peaks and Pints Pilot Program: Oreo Imperials on The Fly.
Peaks and Pints Pilot Program: Oreo Imperials on The Fly
Moonraker Shake This S'more
8% ABV
Moonraker Brewing Co. opened in 2016 in the same Auburn, California industrial park as Knee Deep Brewing, and was later honored as the ninth-best new brewery in the world by RateBeer, a resource for craft beer enthusiasts. Shake This S'more is a s'more-inspired imperial stout brewed with chocolate, graham crackers, vanilla beans, milk sugar, and sea salt. This can is nitro dosed, so for best results, shake the can a little and vigorously pour upside down into your glass.
Wingman S'mores Porter
8% ABV
Victory, Wingman Brewers' lead brewer on the S'mores Porter, sang campfire songs as she stirred Pale, Chocolate, Victory, Black and Carafa Type 2 malts in the mash tun. As Cascade and Saaz hops boiled she tossed in an endless stream of marshmallows and Honey Maid Graham Crackers. This s'mores version of the Tacoma brewery's award-winning P-51 porter sports a tingly, medium mouthfeel, followed by roasted malt, graham cracker, cocoa and marshmallow with long chocolate finish.
The Bruery Hold The Spoon Black Chocolate Cake
8.5% ABV
Inspired by Jeni's Splendid Ice Creams popular flavor, Blackout Chocolate Cake, The Bruery's Hold The Spoon Black Chocolate Cake is an imperial milk stout "treated with mounds of cacao nibs, pure vanilla, and a dash of salt for balance," according to The Bruery hype. This stout is mouth-filling and complex, with notes of rich cocoa, chocolate cake, bittersweet fudge, and semi-sweet chocolate chips.
Short Throw My Mug, My Rules
11.8% ABV
Connecticut brewery Short Throw teamed up with their friend across the country in Anaheim, Bottle Logic Brewing, to brew this hot cocoa imperial stout. They grabbed all the enjoyable qualities of the Oreo cookie and incorporating them into a viscous, 12-ish percent slapper. This absolute treat is layered with flavors of dark and milk chocolate, with a soft, pillow-like marshmallow top. Brewed with coffee, cocoa nibs, marshmallows, and milk sugar, they only thing that will be dunking is your head.
---