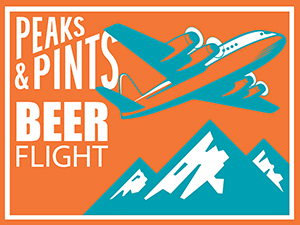 According to the Brewers Association, there were 8,764 craft breweries in the US as of 2020, but only 50 can claim the title of oldest continuous running brewery in its home state. Peaks and Pints searched our archives and the Internets for the oldest brewery in every state. We didn't include the Budweisers and Millers, or the breweries they own, because their technically not craft beer — which means you won't see Redhook from Washington and Widmer from Oregon in today's to-go flight, Peaks and Pints Pilot Program: Oldest Craft Brewery On The Go. Not only do the breweries in this flight brew flavorful beer, but also had a profound impact in how people produce beer, purchase beer, drink beer, and think about beer. Cheers!
Peaks and Pints Pilot Program: Oldest Craft Brewery On The Go
Abita Purple Haze
4.2% ABV, 13 IBU
LOUISIANA: Located 30 miles north of New Orleans, Abita Brewing fired up the mash tun in 1986, making it the oldest craft brewery in the southeastern United States. Abita's Purple Haze is an American wheat ale with fresh raspberries added during secondary fermentation. The result pours a hazy beige with just the faintest hint of lavender. It's a lively combination of soft wheat and sweet raspberry on the nose. Smooth and creamy, it offers bright raspberry flavors up front, backed by grain-laced malt and just the right hint of hops. 'Scuse us while we kiss the sky!
Anchor Steam
4.9 % ABV
CALIFORNIA: The great-grandson of a home appliances magnate and the son of an Iowa dairy farmer, Fritz Maytag was intrigued upon hearing the 69-year-old Anchor Brewing Company was facing closure and thus up for sale in 1965. He purchased it for just a few thousand bucks. Anchor Brewing was perhaps the most primitive small craft brewery in the world, but by 1971 — the year it began bottling Anchor Steam beer — the San Francisco brewery kicked off the craft beer movement. Anchor Steam Beer derives its unusual name from the 19th century when "steam" was a nickname for beer brewed on the West Coast under primitive conditions and without ice. While the origin of the name remains shrouded in mystery, it likely relates to the original practice of fermenting the beer on San Francisco's rooftops in a cool climate. In lieu of ice, the foggy night air naturally cooled the fermenting beer, creating steam off the warm open pans. Northern Brewery hops are enjoyable in the flavor, but the rich, almost chewy malt is the best aspect of this brew. It's complex, rich flavor, deep amber color, and its thick, creamy head make it an instant classic.
Alaskan Smoked Porter
6.5% ABV, 45 IBU
ALASKA: A repeated Gold Medal winner at the Great American Beer Fest, Alaskan Brewing's Smoked Porter is two years older than when nearly as old as the brewery itself when 28-year-olds Marcy and Geoff Larson launched the Juneau brewery in 1986. A testament to the beer's lifespan, Alaskan releases Smoked Porter in limited yearly vintages, each with their own unique identities. Relying on techniques derived from Alaskans who brewed more than a century ago, Alaskan uses direct heat from local alder wood to malt its barley — a process also recognizable to those who love smoked salmon. And the water for the beer comes from a nearby glacier. That's all fine and dandy, but let's get to drinking. A robust woodsmoke aroma backs up the beer's name even from a distance. Smoked Porter's flavor follows suit on the smokiness, though less intensely than the smell. Roasted malts, molasses, plums, and a puckering charcoal all swim up from this complex brew.
Dogfish Head 90 Minute IPA
9% ABV, 90 IBU
DELAWARE: This iconic Delaware staple started in 1995 as Dogfish Head Brewings & Eats — the state's first brewpub. Ever since, it's been serving up handcrafted and locally inspired beers, and has grown to become a nationally recognized brand. The 90 Minute IPA, which debuted in 2001, is the first beer that Dogfish Head continuously hops, adding hops for 90 minutes during the boil for bitterness, and then dry-hop in the fermentation casks to achieve high aroma and flavor. Despite the massive amounts of hops, a clean, grainy malt character ekes through.
LINK: Peaks & Pints cooler inventory
---