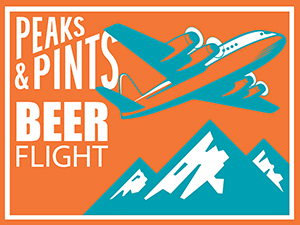 In the world history of beer, pilsners are relatively recent. Around 1840, eons before marketers invented "drinkability," Czech brewers in Bohemia created pilsner, a light beer that didn't taste like spongewater. The primary source of the innovation was the use of bottom-fermenting yeasts, which yielded a livelier, more consistent beer than the traditional top-fermented brews. Today, the best pilsners are still found in continental Europe, partly because of demand and partly because it's home to the style's signature Saaz hop, Pilsen's soft water and crackery, paler malt. German and Bavarian styles tend to emphasize bitterness and spicy hop flavor. Today, Peaks & Pints presents a to-go beer flight of European-brewed pilsners — a flight we call Peaks and Pints Pilot Program: European Pilsners On the Fly.
Peaks and Pints Pilot Program: European Pilsners On the Fly
De Brabandere Bavik Super Pils
5.2% ABV, 22 IBU
A true Belgian Pilsner, from De Brabandere Brewery, brewed as it was in 1894, with water, barley malt, Saaz-Saaz aroma hops and yeast. It is undiluted and unpasteurized, with 8 days of fermentation and 30 days of cold maturation guaranteeing natural clarity and taste stability. It pours pale gold with a fine white head and mildly sweet and crackery, melba toast, lemon, and grassy hops nose. These notes follow through on the palate, and are joined by the brightening aura of Meyer lemon. The whole affair finishes with a mild grassy bitterness.
Praga Premium Pils
4.75% ABV, 25 IBU
Using the famous Saaz hop and water pumped from 300 meters underground the Pivovar Samson Brewery in the Czech Republic, Praga Premium Pils is brewed for 55-65 days for a full-bodied beer, rich in Saaz hops and brewed following a 200 year old tradition by Czech brew masters. This is a crisp, refreshing beer with less CO2 making it less filling but packed with flavor. Expect a standard Czech pils flavor: honey sweetness, doughy accents, and a grainy finish.
Veltins Pilsnener
4.8% ABV, 30 IBU
In 1824, a small country brewery in Grevenstein, Germany, began brewing beer conforming to the German Purity Law. More than 180 years later it had evolved into one of the most modern private breweries in Europe: C. & A. VELTINS. The family run company, fifth generation, brewery still brews with malt, hops, yeast, and purest spring water – strictly in compliance with the Purity Law of 1516. The water from the mountain springs all around Grevenstein is unusually soft. Veltins Pilsener hits the nose with subtle malt and pleasant grassy character. The first sip bursts with carbonation and there is a balanced soft note of malt and gentle hops. The sweet malt slowly melds to a dry, clean, soft finish which leaves you begging for more.
Badische Staatsbrauerei Rothaus Pils Tannenzapfle
5.1% ABV, 32 IBU
The Rothaus Brewery is Germany's highest brewery by elevation, at 1,000 meters above sea level. Situated in Germany's beautiful Black Forest, the brewery was first established in 1791. Their Pils Tannenzäpfle is crisp, bright and clean with big lemon presence and subtle grassy hops.
Bitburger Premium Pils
4.8% ABV, 38 IBU
Founded in 1817, seven generations of family ownership allowed Bitburger Brewery to be named number one draft beer in Germany in 1992, a position it holds to this day. Bitburger Brewery's success has been built on the strength of their original Bitburger Premium Pils. Bright, fresh golden colors and a rich frothy head are what you first notice about this elegant pilsner. The Bitburger well water gives the beer a very clean, hoppy taste, with nutty flavors accompanying. The bitterness of the hops is balanced well with the mellow sweetness of the body of the beer. This is a delightfully refreshing beer: The body is light but not watery, and the carbonation makes quick work of cleansing the palate to enhance the beer's dry, clean finish.
Carlsberg Elephant
7.2% ABV
The elephants on Carlsberg Elephant's label are inspired by the two pair life-size elephant statues, which form part of the main entrance to the Carlsberg Group's headquarters in Copenhagen. Peaks & Pints co-owner Pappi Swarner visited the brewery many times while studying at the University of Copenhagen in 1985. He drank a ton of this beer, including the special 12 percent version from the mouth of an elephant statue at the Elephant Bar in downtown Copenhagen. Elephant is an imperial pilsner, brewed for the first time in 1959. The ample use of malt gives it a vinous and rich character with apple, melon, banana, and caramel flavors balanced with a dry bitterness and hints of oak, bark, nuts and pine needles.
LINK: Peaks & Pints cooler inventory
---