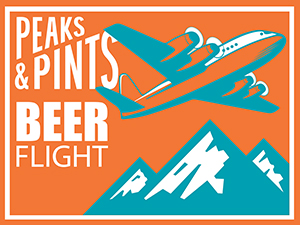 Had there been no pandemic, Oktoberfest 2021 would be happening through Oct. 3 on the Theresienwiese, the open space in the Munich borough of Ludwigsvorstadt-Isarvorstadt. The 187th Oktoberfest in 2022 will take place from Sept. 17 until Oct. 3, just like it has since October 1810 when a great horse race was organized to celebrate the marriage of Crown Prince Ludwig and Princess Therese of Saxe-Hildburghausen. Everyone had so much fun that it was held again, and eventually became an annual event, dubbed "Oktoberfest" in 1872. It has since evolved into a 16-day Munich blowout in late September and early October. Oh, to be in that great mass of humanity, dancing to the throbbing polka beats, scarfing down sausage, kraut, and strudel, and most of all, imbibing from the holy grail … er, stein. Peaks & Pints has been hosting a month-long Oktoberfest celebration since 2017 combining the Märzens and festbiers with fresh hop beers for our annual Fresh Hoptoberfest. Today, we pluck some Oktoberfest beers from our cooler for an organized to-go flight that we call Peaks and Pints Pilot Program: Oktoberfest On The Fly. Prost!
Peaks and Pints Pilot Program: Oktoberfest On The Fly
Aslan Das Boot
5% ABV
This year Aslan Brewing brewed their seasonal festbier with Smaragd hops, a descendant of Hallertau Mittelfrüh, which is a hop steeped in German brewing tradition. This hop provides a delicate floral and peppery note that balances the malt profile. The combination of Pilsner and Munich malt contributes flavors of toast with honey and fresh dough.
Dru Bru Festbier
5.6% ABV, 28 IBU
Enjoying this toasty, session ale with heaps of Vienna malt and German noble hops at Peaks and Pints is much better than on Dru Bru's picturesque patio picnic table bench next to chairlifts on Snoqualmie Summit. Yeah, right. Anyway, this German-style rich golden lager offers layers of German malt, and a charge of soft-edged hops impart flavors of bread-dough and a subtle aroma of herbs and spices. You'll find this creamy textured beer was born for the season of steins.
Firestone Walker Oaktoberfest
5% ABV, 24 IBU
Firestone Walker Brewing's Oaktoberfest is a twist on the German Märzen bier — a Paso Märzen, if you will. Traditional imported malts offer subtle honey-like aromas with hints of Noble hop spice. The stars of this brew are the imported Pilsner and Vienna malts that offer malty sweetness that carry through to the end. German Hallertau hops add rich Noble hop character to balance this Märzen. Pro tip: This beer is 100 percent stainless steel and gets the name Oaktoberfest as an ode to their hometown, Paso Robles, Spanish for "Pass of The Oaks."
Sierra Nevada Oktoberfest 2021
5.5% ABV
For the second year in a row, the pandemic prevented Sierra Nevada from traveling to Germany and brewing their annual Oktoberfest collaboration. Instead, the Chico, California brewery brewed their Oktoberfest 2021 in their state-of-the-art brewhouse with Black, Munich, Pilsner and special Roast malts, Hersbrucker and Tradition hops, and Lager yeast. Enjoy this rich Märzen lager featuring German malts for inviting aromas of honey and biscuity bread, flavors of caramel and graham cracker, and visions of sprawling beer tents.
Future Primitive Festbier
5.6% ABV
Future Primitive Brewing's festbier is brewed with 100 percent imported German malt and aged for more than 12 weeks in their lagering tanks, this festbier is clean and bright with a mild malt backbone. It's hopped with Perle, Hallertauer Mittelfrüh, Herbsrucker, and Tettnang for a hoppier version of a festbier.
Wayfinder Freiheit
5.7% ABV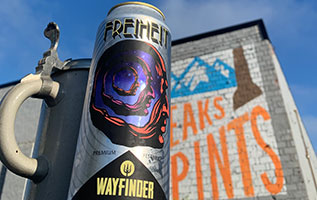 Freiheit! means "freedom" in German and is a reference to Münchner Freiheit, the area of Münich where the Allies freed the German people of Nazi rule. It's also an '80s New Wave band that Wayfinder Beer digs. Freiheit! is a golden, smooth, malty Oktoberfest Wiesn-style lager. This incredibly sessionable beer is very much alike a strong export helles than a Maerzenbier. It has an excellent body with a strong malt backbone and a bitter, dry bite. Light and easy, this one is perfect for the sandwich, as its flavor doesn't bowl over the special's flavors. The slight bitterness adds an extra dimension of flavor to the spicy/sweet bite.
LINK: Peaks & Pints cooler inventory
---