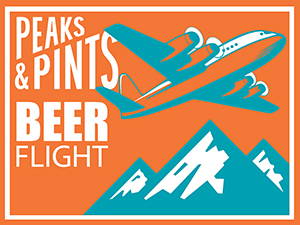 Check your calendars, friends. Yep, we're in October, a month in which your only concern should be which trimming back the hop bines, monitoring your Pumpkin Spice Frappuccino weight gain, debating inappropriate COVID Halloween costumes ideas, and repairing your backyard things after yesterday's storm. But under no circumstances should you spend any time thinking, "Will it snow this weekend?" And certainly, certainly do not ask yourself or anyone else, "Have I completed my Christmas shopping yet?" That said, even though Peaks and Pints is still drinking Mexican Vienna lagers and wearing shorts, Santa's reindeers delivered Christmas beers this week(!). Not just winter warmers, but actual Christmas beers — beers that have Christmas/holiday names. Christmas beers tend to be fuller bodied, often higher in alcohol, with rich malt bases. Oh well. Peaks and Pints isn't a Scrooge or Grinch — quite the opposite, in fact. Throw a heavy jacket across your shoulders and make your way to our craft beer bar, bottle shop and restaurant in Tacoma's Proctor District and pick up a to-go flight of Peaks and Pints Pilot Program: Octobermas On The Fly.
Peaks and Pints Pilot Program: Octobermas On The Fly
Black Raven Festivus
7.1% ABV, 48 IBU
Black Raven Brewing's Festivus holiday strong pale is named after "A Festivus for the Rest of Us," created by Seinfeld character Frank Costanza who thought the holidays became to be too much: too much buying, too much stress, too much glitz. Costanza's Festivus holiday included a Festivus pole, feats of strength and the ritual airing of grievances. Black Raven's Festivus includes oodles of cranberries, citrus fruit peels like orange and Buddha's hand, and a seasonal blend of spices.
Diamond Knot Industrial Ho!Ho! Winter Ale
8.5% ABV, 60 IBU
Diamond Knot Brewing Industrial Ho!Ho! Winter Ale, brewed for 20 years, is the first beer recipe Diamond Knot Vice President of Brewing Operations Pat Ringe created when he arrived at the Mukilteo, Washington, brewery. Ho!Ho! is hoppy!hoppy! — 60 IBUs — thanks to Super Galena and Chinook hops. But, this deep, dark, full-bodied Christmas beer balances the resinous hops with caramel malt sweetness thanks to a sleigh full of malts, including Chocolate malt.
Pelican Bad Santa
7.5% ABV, 65 IBU
"I Saw Mommy Kissing Santa Claus," sung by former jockey Jimmy Boyd, takes a humorous approach to a child's shocking discovery of his mother's infidelity. Pelican Brewing in Pacific City, Oregon, brews a beer that pairs with Mommy's merry adulterer — Bad Santa. This mysterious dark elixir is filled with complex malt flavors and aromas with toasted malt and roast character, blending seamlessly to the alluring herbal hop aroma that comes from copious amounts of Fuggle hops. Bad Santa doesn't care if you've been naughty or nice; he just wants Mommy.
Deschutes 2020 Jubelale
6.7 ABV, 65 IBU
Deschutes Brewery's former head brewer John Harris originally brewed Jubelale for Christmas and modeled it after an English strong ale or winter warmer. He brewed that first batch on October 26, 1988, and according to the brewing log, it contained pale malt, caramel malt, chocolate malt, and dextrin malt, and the hops used were Galena, Cascade, "Wills" (assuming Willamette), and Tettnanger in the hop back. Starting gravity was 1.065, and the resulting alcohol was 6.25 percent by volume. The Bend, Oregon brewery has been producing the robust and malty but approachable Jubelale winter festive ale every year since. Its spicy-malt flavor, cocoa, dried fruit and toffee notes ignite cozy warmth on the taste buds — perfect for any number of winter pastimes, like making toys. This year's Jubelale label artwork — an iconic staple anticipated almost as much as the beer itself — was designed by Eric Nyffeler, a popular Portland based artist best known for his concert posters for musicians including The Avett Brothers, Phish, St. Vincent, the Decemberists, and many more.
Hair of the Dog Doggie Claws
11.5% ABV, 70 IBU
Hair of the Dog's holiday-themed barleywine Doggie Claws is brewed with Simcoe and Amarillo hops along with Organic Pilsner malt, British crystal and dark wild flower honey collected on Mt. Hood. It smells of thick, decadent caramel coupled with notes of raisins, molasses and dark fruits. First sip brings a sweet caramel-raisin infused maltiness that carries hints of dark fruits, cherry and sourdough. This is followed by a nice wave of piney, citric, herbal hop bitterness causing a nice interplay between the sweet and bitter aspects of the craft beer. It's self-gratification at its best.
---