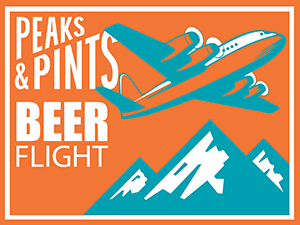 The early days of the American craft beer revolution — and much of consumer demand — was driven by the West Coast IPA. Introduced to the American drinking public via Sierra Nevada, Stone Brewing, Green Flash, Russian River, Ballast Point, Lagunitas, and ilk, the West Coast IPA minimizes malt richness and supersizes citrusy, resinous, and piney hops. Over time, breweries nationwide began making West Coast IPAs with amplified bitterness and alcohol. Around the mid-2010s, Northeast breweries responded with hazy IPAs featuring fruity Citra and Mosaic hops with bitterness barely perceptible. The New England-style IPA pushed the West Coast IPA to the bottom rows of bottle shop coolers. However, the haze craze that made murky IPAs the top beer trend is reaching a plateau allowing a resurgence of West Coast style popularity. Today, Peaks & Pints suggests a to-go flight of new West Coast IPAs in a flight we like a to call Peaks and Pints Pilot Program: New West Coast IPAs Beer Flight.
Peaks and Pints Pilot Program: New West Coast IPAs Beer Flight
Varietal Dammit Bobby!
6.8% ABV
Chris Baum, John Cope, Chad Roberts, David Paulson, and Karl Vanevenhoven opened Varietal Beer Co. in April 2018 in the Port of Sunnyside between Yakima and the Tri-Cities in Eastern Washington. The ownership all had a variety of dreams and life goals, but their Venn diagram centered on owning a brewery in the Yakima Valley. They collaborated with Barley Brown's on this West Coast IPA that's heavily hopped with Simcoe, Chinook, Galaxy, and a touch of Amarillo for flavor of papaya and grapefruit, finishing with a classic bitterness.
Trap Door Lupuluminati – 3rd IPA
7.2% ABV
Lupuluminati has many secrets. The one thing that is not kept secret about it is the abundance of hops coming out of a downtown Vancouver, Washington, brewery. For Trap Door Brewing's third rendition of the Lupuluminati series the third eye gives a perception beyond ordinary hops. Focusing on advanced hop products, Lupuluminati is a bit softer than your typical West Coast IPA but full of flavor and aroma. With Mosaic, El Dorado and Cryo Pop, it carries huge notes of citrus, tropical fruit, guava to overwhelm your sensories you will quickly realize this is no ordinary IPA.
Matchless 4×4
7.2% ABV, 55 IBU
The Cascade Range is calling you to an all-terrain West Coast IPA adventure brewing by Matchless Brewing in Tumwater. Bravo, Centennial, Chinook, and Triumph hops lock in the hubs and get you ready for anything you may encounter. Prairie Select Pilsner malt and Paul's Malt's Mark 5 Crystal malt are enough to take you up the steepest grade while climbing along at the perfect pace. Once you have reached the mountaintop, you will encounter big citrus, pine and a touch of stone fruit making it all worth it.
Block 15 Shifting Currents
7.5% ABV
In early 2008, homebrewers Nick and Kristen Arzner opened Block 15 Brewing in the in the former Gazette-Times newspaper building in downtown Corvallis serving beers true-to-style with ingredients imported from different parts of the world, along with all the Willamette Valley produced grains, hops, fruits, herbs, and yeast. Their recently released Shifting Currents West Coast IPA is brewed with Centennial, Simcoe, Cascade and Chinook hops for characteristics of orange citrus, floral and pine.
Belching Beaver Ride The Pine
7.5% ABV, 60 IBU
Belching Beaver Brewery in San Diego, California, was founded in 2012 by Thomas Vogel, Dave Mobley, and brewmaster Troy Smith, who formerly served as the brewer at Coronado Brewing Company. Belching Beaver brewed Ride The Pine for everyone who misses the days when you could easily see through your IPA. A blend of old and new school brewing techniques, this West Coast IPA brings huge aromas of pine tree and grapefruit along with tropical guava and a dry finish.
LINK: Peaks & Pints cooler inventory
---