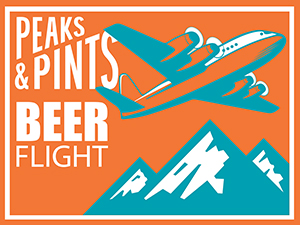 "Why drink pale ale when I can upgrade to IPA?" Have you thought this after many bland pints of thin, hoppy beer that taste like pine needle tea? Well, pale ales can be more refreshing than reading Proust after a Jean-Claude Van Damme marathon. Pale ales are medium-bodied and light yellow-golden to copper color. They offer medium to high hoppiness that can range from mildly bitter to fruity, depending upon the hops used by the brewer. Last, with its plain-Jane neutrality, a good pale ale can pair with most dishes. It's bright and crisp enough for salads, goat cheese, and vinegary antipasti, while the hops play well with both acidic and fattier ingredients. Dessert is another story, but if your biggest worry in life is choosing between beer and cake, Peaks & Pints doesn't want to hear it. Today, Peaks & Pints presents a to-go flight of new pale ales in our cooler — a flight we call Peaks and Pints Pilot Program: New Pales On The Fly.
Peaks and Pints Pilot Program: New Pales On The Fly
Equilibrium Photon Citrus
4.8% ABV
In 2016, MIT graduates and friends Peter Oates and Ricardo Petroni opened Equilibrium Brewery in Middletown, New York. The two professional scientists became obsessed with New England hazy pales and IPAs burning a path to Hill Farmstead Brewery and The Alchemist. Finally purchasing a homebrewing kit, Oats and Petroni strived to create scientifically balanced beer, which they did. Photon Citrus is their beloved Photon American Pale Ale conditioned on fresh grapefruit, lime, lemon, tangerine, and orange zest. It is everything photon is with a balanced touch of citrus.
Baerlic Light It Up
5% ABV
Baerlic Brewing brews down-to-earth beers made by down-to-earth guys. In 2014, then-homebrewers Ben Parsons, a graphic designer, and Richard Hall, who earned his paycheck as a bike mechanic, took their work-a-day approach to life and transplanted it into Baerlic, which means "of barley" in old English. Their hazy little pale ale Light It Up is brewed with loads of oats and wheat, plus Citra, Cashmere, and Comet hops for notes of kumquat, pineapple and creamsicle.
Fremont Seattle Made
5.5% ABV
Seattle Made is a collaboration of more than 600 urban producers and manufacturers working together to find and share the resources they need to "make it" in Seattle. This hazy pale ale is brewed to celebrate the makers of Seattle. Fremont Brewing, the family-owned craft brewery founded in 2009 and a long-time member of Seattle Made, brewed Seattle Made Pale Ale with Centennial, Galaxy, El Dorado, and Cashmere hops for mildly sweet, and gently sipper.
Culmination Desired Realm
5.9% ABV
Pale ales originated in the UK in the late 1700s and were made famous by the Bass Brewery of Burton-upon-Trent, England. Sierra Nevada then "Americanized" the style in 1980 when they released their hoppier version of the pale ale featuring Cascade hops, which became the signature hop for the American version of style. Culmination Brewing's Desired Realm is a hazy pale brewed with Cascade hops, as well as Citra and Vic Secret hops, plus copious amounts of wheat and oats. This lower ABV hazy pale is creamy and full bodied with tons of sweet sticky pineapple, fresh lemon, and subtle notes of pine.
Counterbalance Highly Unlikely Simcoe Pale Ale
6.4% ABV, 35 IBU
Counterbalance Brewing Company, started by two former homebrewers who met while working at Seattle coffee company Caffe Ladro, opened its doors and launched wholesale distribution in February 2015. The Seattle's historic Georgetown neighborhood brewery offers a Highly Unlikely Pale Ale series with the Simcoe version in the Peaks & Pints cooler. This straw-colored pale ale begins with aromas of peach and apricot, leading into flavors of peach, melon and a little pine.
Moonraker No Plans No Problems (Mountain Bike)
6% ABV
In 2016, Dan and Karen Powell opened Moonraker Brewing Co. in the same Auburn, California industrial park as Knee Deep Brewing, and was later honored as the ninth-best new brewery in the world by RateBeer, a resource for craft beer enthusiasts. Their West Coast No Plans No Problems pale ale is for outdoor enthusiasts. A perfect way to cap a day on your mountain biker. Fifth in the series; this one is brewed with Citra, Mosaic, Centennial, and Chinook hops for a lovely pale ale with a floral, grassy and crushable flavor profile.
LINK: Peaks & Pints cooler inventory
---