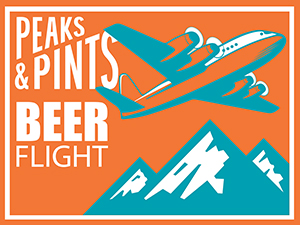 In April 2021, Peaks and Pints will host the Tournament of Beer: NW Double IPAs. Chosen through the nomination process below, the top 64 vote getters — DIPA slam dunkers — will compete Monday-Friday on our website April 2-24. Through online voting, Washington and Oregon double IPA drinkers will pick daily winners until the best double IPA in the Northwest is crowned. It's just like March Madness, only with way more fermentable sugars. The IBU-to-IBU battle of the DIPAs grand champion will be announced at the Tournament of Beers Party April 24 at Peaks and Pints in Tacoma's Proctor District. The final two double IPAs will battle live pouring from Peaks and Pints' Western red cedar tap log with the champion brewery receiving a permanent handle at Peaks and Pints through the spring and summer. Today is the last day to nominate your favorite Northwest doubIe IPA for the tournament. To help inspire you to vote, consider drinking the five, new double IPAs that recently arrived in our cooler. The beers are our to-go flight today, which we're calling Peaks and Pints Pilot Program: New Double IPAs On The Fly.
Peaks and Pints Pilot Program: New Double IPAs On The Fly
Structures Double West Coast IPA
8% ABV
Structures Brewing Double IPA has received numerous nominations for the Tournament of Beer: NW Double IPAs, but could their latest, Double West Coast IPA, make a run for it? You tell us after enjoying the dank hop profile reminiscent of the mid-2000s with notes of white peach and a bright crisp hop profile of Strata, Citra, and Columbus.
Baerlic Trickle Drops
8% ABV
Tucked onto Southeast 11th Avenue in Portland's Central Eastside, Baerlic Brewing was named the 2017 Small Brewery of the Year at the Oregon Beer Awards followed by an award for their growth, 2018 Mid-Sized Brewery of the Year at the Oregon Beer Awards. Their Trickle Drops hazy double IPA is brewed with Citra, Galaxy, and El Dorado hops for juicy grapefruit, pineapple and passionfruit flavors.
Level Mostly Karate Chops
8% ABV, 60 IBU
In search of a spacious property to commission some brews of his own, Geoff Phillips, owner of the recently closed Bailey's Taproom in downtown Portland (sad face), Jason Barbee of Ex Novo Brewing, and Shane Watterson of Laurelwood Brewing, converted a former produce market in East Portland's Argay neighborhood into a 20-barrel brewhouse, Level Beer. Their Mostly Karate Chops is a big juicy fresh hop double IPA with notes of strawberry, orange marmalade, pine, and citrus.
Single Hill Public Knowledge
8.8% ABV, 70 IBU
In August 2016, Ty Paxton and Zach Turner opened Single Hill Brewing in an old JC Penney Tire Center in downtown Yakima. The two first met at a cider pressing party that a mutual friend was hosting in 2013. Three years later, over pints at Bale Breaking Brewing, the two hatch the idea for a community-based brewery in a town dear to their hearts. Brewed for The Public House of Yakima's second anniversary, Public Knowledge imperial IPA bursts with flavors of ripe pineapple and mango, with a classic bitterness punch.
---