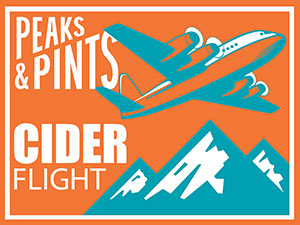 Happy National Apple Day! That's right; Oct. 21 is National Apple Day. Apple pie. Apple sauce. Apple crisp. National Apple Day celebrates the apple in all its various forms and reminds us that apples are shiny, tasty, and healthy. "An apple a day keeps the doctor away," "Apple of my eye," and "as American as apple pie" are all very common phrases in our language. Be it good health, familiarity, or love, all are used to denote something we hold to be very important to our concept of culture in America. They also call attention to a humble fruit that not only shaped our language, but has also found its way into our landscape, built our economy, our taste in food and drink, our cultural heritage, our mythology and even our religious beliefs. Did you know there are more varieties of apples than any other fruit? Peaks and Pints celebrates National Apple Day in the only way we know — a to-go apple cider flight. Head to Tacoma's Proctor District and enjoy Peaks and Pints Pilot Program: National Apple Day Cider Flight.
Peaks and Pints Pilot Program: National Apple Day Cider Flight
Incline Beare's Original Haze
5% ABV
Since 2015, the Zehner family has made delicious, crushable cider, many from a dry-hopped apple base to pull out citrus aromas. Their Tacoma-based Incline Cider use 100 percent fresh pressed apples, no added sugar, no carbonated water, and the result are ciders that are balanced, not too sweet and super flavorful. Their Beare's Original Haze is "inspired by a family name that promotes quality, boldness, and originality in both the cider we craft and the people behind it." It's fermented with Pacific Northwest apples, showcasing the prized honeycrisp crisp, for a light, hazy, refreshing, and full of flavor cider with notes of citrus and a subtle sweetness.
Seattle Cider Dry Cider
6.5% ABV
Made primarily from culinary/table apples modern ciders are generally lower in tannin and higher in acidity. Seattle Cider delivers delicious modern ciders. With zero percent residual sugar, its Dry is a very dry cider in a classical style. The dryness doesn't equate to a lack of flavor, however, as it still has a refined apple nature underlined by notes of stone fruits and a light tickle of lilac on the nose. It's a cider that can stand alongside one of our roast beef sandwiches without losing the flavor battle.
Finnriver Farmstead
6.5% ABV

Finnriver Farm & Cidery's Farmstead is the result of friends and neighbors bringing their bruised, bitter, and bizarre apples to the farm. The Finnriver cidermakers then press and ferment this medley of fruit adding a bit of sweetness to balance acidity and tannins. They conduct three different ferments with three different yeast strains to harvest subtleties from each and combine for a cloudy yet clean farmhouse cider. Sweetened with organic cane sugar. It hits the nose with warm bread and sweet apple. It offers a rustic taste of the ripe orchard and hearty homestead cider tradition. Nutty with a sharp acidity that balances a gentle tannic finish. Unfiltered lees lend body to this cider.
Yonder Palisades
6.5% ABV
Did someone say blackberries?! Founded by CEO Caitlin Braam, Yonder Cider's taproom is in the heart of Seattle's Ballard neighborhood and a drive from the orchards and pressing facility in Wenatchee. Their Palisades cider is a blend Fuji, Honeycrisp, Roxbury Russet, Dabinett, various red fleshed apples and Pacific Northwest blackberries, all of which is supported by an herbal hint of sage.
Alpenfire Pirate's Plank Bone Dry Cider
6.9% ABV
At age 19, Nancy and Steve "Bear" Bishop would go on dates to Canada. They fell in love with cider. After making cider as hobbyists for many years, in 2001 they took a trip to the cider making regions of Spain, France, and England to observe commercial operations. When they returned home, Steve and Nancy took a class at WSU from an English cider master, and ordered 900 French and English cider trees, which started their journey into commercial cider making and the founding of Alpenfire Cider (previously named Wildfire Cider). Made with primary native yeast ferment, Champagne yeast finish, stainless maturation, and 4 months neutral oak maturing, then bottle conditioned, Alpenfire's Pirates Plank Bone Dry Cider's name is a nod to the rich maritime history of Port Townsend. This Old World bitter sharp cider is a blend of early season, organically grown, estate Kingston Black, Yarlington Mill, and Foxwhelp apples for fruity apple pie notes in the aroma with a bit of puckering acidity peaking through at the finish. Expect a tart and earthy taste.
Double Mountain Tossed Apples
7.3% ABV, draft
Peaks & Pints traveled to Double Mountain Brewery & Cidery owner Matt Swihart's Double Mountain Orchard located along the Hood River Fruit Loop south of the Double Mountain's brewhouse toward Mount Hood. We spent the day picking apples for our 2021-22 house cider, Double Mountain Tossed Apples. Yes, there are an accidental dumping of the entire picking session, thus the name. Swihart oversees 25 varietals of cider apples, which we picked two of the six varietals in Tossed Apples — Golden Russet and Dabinett. After tasting around 12 varietals we decided on varietals Green Emerald, Golden Russet, Dabinett, Kingston Black, Pink Pearl, Ribston Pippin for our cider. Swihart recommended Enartis ES 181 yeast as it's used to make white wines for strong varietal aroma expression. Tossed Apples hits the nose with snappy apple flesh, dessert apple, honeydew, apple blossom, cardamom, and light vanilla followed by more dessert apple — toward the ripe honey crisp spectrum, crisp but savory — flavor.
Dragon's Head Kingston Black
7.9% ABV
Named for the dragon that guards the apples of immortality in the Garden of Hesperides, Dragon's Head Cider was founded in 2010 on Vashon Island. Ignoring their last name, owners Laura and Wes Cherry planted a beautiful orchard of apples and pears with production held on site. Kingston Black takes its name from the town of Kingston near Taunton in Somerset, England — the heart of cider in the UK. Kingston Black apples are often considered the epitome of cider apples. They produce a cider rich in dried apple, clementine, and hint of honey, slightly bitter, and medium bodied.
LINK: Peaks & Pints cooler inventory
---