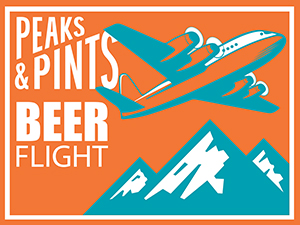 July 12, 2013, Scott Wagner, Gordon Rush, Matt Smith, Thair Jorgenson, Chris DeWald, and others opened the 15-barrel Narrows Brewing perched on pilings above the Narrows waterway. As guests gazed at the 700 feet of guest docking below and beyond to the Narrows bridge, Joe Walts, former quality control manager at Ale Asylum Brewing in Madison, Wisconsin, brewed in the back. After a couple years, Walts returned to Ale Asylum with former Harmon head brewer Mike Davis taking over the head brewing position. Davis eventually returned to his beloved Hawaiian Islands with Matt Rhodes — formerly with Stone Distributing and King Harbor Brewing out of Redondo Beach, California —letting his freak flag fly, injecting new recipes into the brewery, especially hazy IPAs, and crazy delicious imperial stouts. After Rhodes moved on to Fort George Brewery in Astoria, Parker Rush grabbed the brewing reins and the entire brewery as the new owner in November 2020. After graduation from the UC Davis Master Brewers Program, Parker cut his teeth brewing at Lowercase Brewing in Seattle before fulfilling his life-long dream to own a brewery. Brewer Zach Dowling has been with Narrows since the doors opened. Today, Peaks & Pints presents a flight of Narrows flagship beer, Octo IPA, and its variants, in a flight we like to call Peaks and Pints Pilot Program: Narrows Octo Beer Flight.
Peaks and Pints Pilot Program: Narrows Octo Beer Flight
Narrows Octo IPA
7.2% ABV, 72 IBU
As mentioned in the introduction paragraph, Joe Walts led the brew team out of the launch. One of the first beers he brewed as the Giant Pacific Octopus IPA with Magnum, Columbus, and Willamette hops for a fruity, melon, and grapefruit flavor profile. Matt Rhodes reworked the recipe, with 2-row as the base for a foundation of Centennial, Chinook and Columbus hops, and an ever-rotating modern dry-hopping, for a fruit-forward, soft West Coast IPA, renamed Octo IPA.
Narrows King Octo Double IPA
9% ABV, 60 IBU
For its ninth anniversary celebration, Narrows Brewing released King Octo Double IPA and Queen Octo IPA. Brewed to be the amped up more powerful version of their flagship IPA, King Octo wrangles an aroma of pine and berries layered between a bready body. It finishes with a nice level of bitterness.
Narrows Queen Octo IPA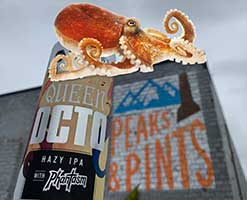 6.5% ABV, 30 IBU
Brewed with Nelson Sauvin, Hallertau Blanc, and Cascade hops, Queen Octo is a more complex hazy IPA brewed with multiple new methods for adding hops — specifically Nelson Sauvin and Phantasm powder. The result is a super juicy IPA with strong tropical fruit aromas, followed by flavors of guava, passionfruit, pineapple, and some white currant.
LINK: Peaks & Pints cooler inventory
---