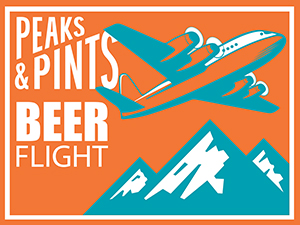 It usually takes two to tango for collaboration, but 47 Washington state breweries hit the dance floor for the Multiplayer Guild Collab IPA project, a beer collaboration to benefit the Washington Brewers Guild. Even though beer drinkers are emerging from isolation with pent-up energy and Band-Aids on their arms, the annual Washington Brewers Festival on Father's Day weekend is, once again, is postponed due to the pandemic. Yes, it's a fun weekend for craft beer drinkers to try new beers, but it's also a thrill for brewer to hangout and talk shop. The Washington Brewers Guild, Crosby Hops, Blind Tiger Design, and other participants invited Washington breweries to unite in a different way — over an IPA base recipe and an ABV between 6 and 7 percent. Each brewery put their own spin on the recipe, many with hops donated by Crosby Hops. Today, Peaks & Pints suggests you take home three Multiplayer versions in a to-go flight we're calling Peaks and Pints Pilot Program: Multiplayer Guild Collab On The Fly.
Peaks and Pints Pilot Program: Multiplayer Guild Collab On The Fly
Postdoc Multiplayer Hazy Double IPA
8.5% ABV, 30 IBU
Postdoc Brewing brewed a hazy double IPA from the Multiplayer Guild Collab recipe. They stuffed their mash tun to the brim with their favorite hazy grains and added Ekuanot CO2 extract, even more Ekuanot T90 hops, Cashmere, El Dorado, and Mosaic. Brimming with Washington spirit, this double IPA offers boisterous tropical and sweet fruits with a silky-smooth finish. "Washington breweries set off on an adventure of trials and challenges that threaten a once thriving local industry, uniting to keep their communities healthy and shield fellow breweries from the jaws of defeat," states the Postdoc ownership. "In the spirit of the Washington brewing community, brewers from across the state come together to produce Multiplayer Guild Collab, an IPA benefiting the WA Brewers Guild. This hazy double IPA reflects a connected and collaborative industry, working together to brew another day and pour another pint."
Diamond Knot Multiplayer Hazy IPA
6.7% ABV, 34 IBU
"We're excited to join so many great Washington breweries to celebrate the spirit of community and help benefit the Washington Brewers Guild in the process," states the Diamond Knot Brewing ownership. Their version is a double dry hopped hazy IPA with copious amounts of Citra and "Down Under" Australian Galaxy. Expect an eruption of sweet pineapple and fresh floral aromas followed by a satiny mouthfeel, plus sweet undertones delivered by the complex malt and hop combination.
Top Rung WBG Multiplayer IPA
6.5% ABV, 64 IBU
"This year the Brewers Guild coordinated a statewide IPA collab with Washington breweries, hop growers and malt companies to help raise awareness for the Guild," states Top Rung Brewing ownership. "Each beer will be different, and we can't wait for you to try ours." Using malt exclusively from LINC and hops from Crosby, Top Rung Head Brewer Tyler Mathis dry hopped the beer like a boss with Citra, Idaho 7, Amarillo. The resulting IPA bursts of citrusy goodness and medium-low bitterness, plus a toasty malt backbone.
LINK: Peaks & Pints cooler inventory
---
Category:
Beer Line Blog
,
Craft Beer
,
Critical Drinking
,
Events and Festivals
,
Houses of Craft
,
In The Cooler
,
New Releases
,
News and Updates
,
Peaks and Pints Pilot Program
,
Shop
,
Specials