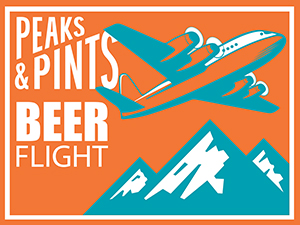 In 1982, you were 19 years old. A lot happened that year. Aspartame's claim to fame, Diet Coke was introduced, Michael Jackson Thrilled you, and you graduated Foss High School and entered Washington State University. You donned a pledge pin and dove into an architecture degree. A Californian fraternity brother handed you a Sierra Nevada Pale Ale bottle in 1983. That beer launched your love affair with craft beer. The thought of being a father wasn't a thing. The thought of discovering more craft beer was a thing. Today, you're a father with your spouse and offspring doting on you all day. Tell them you want to drink like a 21-year-old — your 21-year-old life. Have one of them stop by Peaks & Pints and grab our to-go flight, Peaks and Pints Pilot Program: Beers Before You were Dad.
Peaks and Pints Pilot Program: Beers Before You Were Dad
Anchor Brewery Anchor Steam
4.9 % ABV
The great-grandson of a home appliances magnate and the son of an Iowa dairy farmer, Fritz Maytag was intrigued upon hearing the 69-year-old Anchor Brewing Company was facing closure and thus up for sale in 1965. He purchased it for just a few thousand bucks. Anchor Brewing was perhaps the most primitive small craft brewery in the world, but by 1971 — the year it began bottling Anchor Steam beer — the San Francisco brewery kicked off the craft beer movement. Anchor Steam Beer derives its unusual name from the 19th century when "steam" was a nickname for beer brewed on the West Coast under primitive conditions and without ice. While the origin of the name remains shrouded in mystery, it likely relates to the original practice of fermenting the beer on San Francisco's rooftops in a cool climate. In lieu of ice, the foggy night air naturally cooled the fermenting beer, creating steam off the warm open pans. Northern Brewery hops are enjoyable in the flavor, but the rich, almost chewy malt is the best aspect of this brew. It's complex, rich flavor, deep amber color, and its thick, creamy head make it an instant classic.
Sierra Nevada Pale Ale
5.6% ABV, 38 IBU
A tip of the cap to the iconic Sierra Nevada Brewing Pale Ale that makes all the others in this flight possible. First brewed in 1980, Sierra was the craft that started appearing next to Bud and Miller handles, thus shifting the beer landscape of what people wanted to drink. It was a victory of flavor over, uh, liquid. It has a deep amber color and an exceptionally full-bodied, complex character. Magnum and Perle gives this this craft beer a clean, bitter taste. Generous quantities of premium Cascade hops give the Pale Ale its fragrant bouquet and spicy flavor.
Rogue Dead Guy Ale
6.8% ABV, 40 IBU
In May of 1989, John Maier arrived in the small Oregon coastal town of Newport to open a much larger Rogue Ales facility than the original in Ashland, Oregon. His Dead Guy Ale has been around for a while, and to many people, it's the standard that all American-made Maibock are held to. Dead Guy Ale incorporates Rogue's proprietary Pacman yeast, and features Pearl and Sterling hops for a robust take on the classic German beer. Although the beer's missing the style's bread crust, the present flavors are harmonious: Bread with toasted edges runs over the tongue before orange notes pop up. Hefty bitterness chases the swallow while peppery alcohol prickles the sip front to back.
Lagunitas IPA
6.2% ABV, 52 IBU
The Lagunitas Brewing was the first California brewery to lead with an IPA (in name and style). Amazing, right? In an era when IPAs are de rigueur for new craft breweries, especially those on the West Coast, Lagunitas founder Tony Magee's 1995 decision was as striking as the IPA he put out. The beer's labels claim it's "made with 43 different hops and 65 various malts," which would be badass if true, if wildly impractical. Cascade and Centennial are in the greatest abundance, and they combine to deliver flavors and aromas of citrus zest, bitter pine, grass, earth and just a pinch of crystal malt to keep the hops in proportion. Finish is mostly bitter but balanced, with a slight lingering bitterness.
Dogfish Head 60 Minute IPA
6% ABV, 60 IBU
Sam Calagione started making beer in 1995 when he opened Dogfish Head Brewings & Eats in the beach community of Rehoboth Beach, Delaware. Calagione is the founding father of beer in Delaware as operating a commercial brewery in the state was illegal until he convinced the local government to update the ancient Prohibition-era laws and let him open Dogfish Head Craft Brewed Ales. Within a few successful years, the company activated a major expansion, switching from making very small, homebrew-style batches to industrial-sized sessions in a sizeable brew house. Dogfish Head expanded and moved to a 100,000 square foot facility in nearby Milton, Delaware in 2002. They're one of the largest craft brewers in America but yet there may be no brewery today that exhibits such a dedication to experimentation and boundary pushing. The brewery's 60 Minute IPA, the brand's flagship, is continuously hopped with more than 60 hop additions over the entire boil to create a powerful yet balanced East Coast blend with a ton of citrusy hop character. Inspired by a cooking segment he saw in the late '90s where a chef added little increments of pepper over an extended period to enhance flavor, Calagione turned to a vibrating magnetic football game to create a system that would continuously add hop pellets during the entire time a beer boiled. The 60 minutes of continuous "A Northwest Hop" contributes to sweet aroma of apricot and pear — similar to a Riesling. The beer doesn't taste as sweet as it smells and instead, we get notes pungent grapefruit pith with a slight bitterness.
Bear Republic Racer 5
7.5% ABV, 75 IBU
In 1995, the Norgrove family open Bear Republic Brewing in Healdsburg, California behind their strong, signature Racer 5 India pale ale. Bear Republic Brewmaster Richard Norgrove was considered among Sonoma County's pioneering craft beer makers. Red Rocket was Bear Republic's original homebrew recipe, but Norgrove grabbed the wrong hop profile (meant for Red Rocket) that he had pre-measured out the day before and put it into his IPA by mistake. So, Racer 5 was born — at least in its first form. It took five recipes, tweaking and feedback from the patrons at the pub to settle on what is now known as Racer 5 — hoppy, malty, and just the right amount of floral notes from the Cascade and Columbus hops.
LINK: Peaks & Pints cooler inventory
---