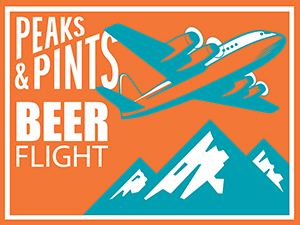 This Mother's Day will feel different for many — whether it's because we're separated from Mom by distance or quarantine, or because Mother's Day traditions (including waiting for hours for a table in a crowded restaurant) are suddenly upended. Then, there are those moms who all they really want is a day off to do whatever they want, nap on the couch, take a hike, grab an socially-distant afternoon beer session with girlfriends. So maybe the best gift you could give Mom is to take the kids out for the day. Then, return to cook her dinner, or do take-out — or a combination of both — and pair the meal with the craft beers in Peaks and Pints Pilot Program: Mother's Day Dinner On The Fly. Happy Mother's Day!
Peaks and Pints Pilot Program: Mother's Day Dinner On The Fly
SIP TO START
Schöfferhofer Grapefruit
2.5% ABV
While you cook, pour her a glass of Schöfferhofer Grapefruit. Frankfurt, Germany's Binding Brauerei takes credit for creating the globe's first grapefruit-infused hefeweizen, a 50-50 blend of grapefruit juice and unfiltered wheat beer. Schöfferhofer's bubbly offering is more benign and accessible than more citrusy radlers, with a heavier sweetness that could be a turn-off to some. This 2.5-percent ABV radler is the perfect sip to start.
DEVILED EGGS APPETIZER
Old Schoolhouse Brite Side IPA
6.5% ABV
A deviled egg has an ultimate simplicity — hard boil an egg, cut in half, take the yolk out and replace it with stuffing. That's it. So it is not surprising that the first mentions of the stuffed eggs goes all the way back to the ancient Romans, literally to the first century A.D, where stuffed eggs were served as an appetizer during parties. The stuffing choices had no limitations and included all kinds of herbs, spices and meats. Peaks & Pints Spicy Deviled Eggs have jalapeños in the stuffing, and the perfect beer to cut through this spiced rich yolk mixture is an aromatic West Coast IPA such as Old Schoolhouse Brewery's Brite Side IPA, with all pine plus subtle citrus. This crushable IPA is bright, dank and refreshing.
SOMETHING SAVORY
Garden Path The Fruitful Barrel Tayberries & Cherry
6.4% ABV
For the main course we suggest whipping up some saltimbocca, veal covered in prosciutto and sage and served with a lemony butter sauce. The comforting dish is balanced and comforting on its own, but with a refreshing glass of sour, tart, and funky Garden Path The Fruitful Barrel Tayberries & Cherry to cut through its rich gaminess, it's unbeatable. Garden Path Fermentation's owners come from the famous Jester King Brewery in Texas — and the ciders, meads, and beers they've been producing since opening in 2018 have not been a disappointment. They incorporate only ingredients they can get locally, whether it's the native yeast, the Skagit malt, the hops they can find locally. Garden Path Fermentation's The Fruitful Barrel Tayberries & Cherry has an aroma of big berry tart fruit notes over a musty Brett funk and light tannic oak. Taste has a nice mild acidity with a touch more coming from the fruit than the bacteria and a mild funk from the Brett. It's pleasant and subtle with good depth of flavor.
SOMETHING SWEET
Lindemans Framboise
2.5% ABV, 12 IBU
You'll want to end your motherly tribute on a sweet note. Since Peaks & Pints is an outdoor-themed craft beer lodge, we suggest s'mores for dessert. But, have some fun with it. Campfire S'mores Lava Cake is cake-y on the outside with a warm dark chocolate bursting with graham crackers and marshmallows in the center. We found a recipe that only takes 30 minutes to make. By itself Lindemans Framboise drinks like raspberry soda-pop; pink, fizzy, and sweet with just a touch of tart in the background. In combination with s'mores, though, the acidity is amplified, making it a great contrast to the saccharin sweet.
---