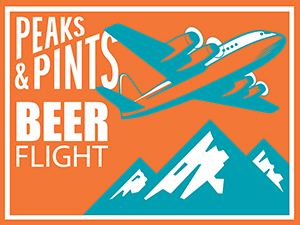 American Craft Beer Week kicked off yesterday for seven days on kicking Buds, Heinekens, and Stellas aside for something more interesting. The Brewers Association, the national non-profit trade group for small and independent U.S. craft brewers that organizes the week, has been celebrating this annual craft beer focused week since its inception in 2006 when it was recognized by Congress. Hosted by CraftBeer.com, a website published by the Brewers Association, American Craft Beer Week provides an opportunity for beer lovers to connect safely with each other while supporting — and possibly even saving — local microbreweries, taprooms, brewpubs, and regional craft breweries. These small businesses are undergoing unprecedented challenges due to the global pandemic. Peaks & Pints will focus our daily to-go beer flight on Regional craft beer, heading to the waterfront today. Stop by our craft beer lodge for Peaks and Pints Pilot Program: American Beer Week On The Waterfront — five craft beers brewed on the Pacific Northwest coast.
Peaks and Pints Pilot Program: American Beer Week On The Waterfront
Fort George Hammock District
10% ABV
ASTORIA: Founded by brewers Jack Harris and Chris Nemlowill, the two combined their brewing expertise from previous Oregon coast gigs at Bill's Tavern and Astoria Brewing Company to bring some of the best craft offerings not only to Astoria, but to the Pacific Northwest, when they opened Fort Goerge Brewery in 2007. A collaboration with Coopers Hall Winery of Portland, Hammock District imperial saison is co-fermented and aged in French oak Riesling barrels for 6 months, with a mixed culture consisting of wild saccharomyces, a few saison strains, over 14 different Brettanomyces strains, and a couple of Lactobacillus strains. The end result is a light funky aroma that leads into loads of fruit flavors like peach, green apple, pineapple, and melon, and then finishes bright, dry, and crisp.
Pelican Captain Of The Coast
9.5% ABV, 25 IBU
PACIFIC CITY: Pelican Brewing serves craft beer at four beaches along the Oregon Coast — the flagship brewery in Pacific City, as well as Tillamook, Lincoln City and Cannon Beach. Captain Of The Coast is back on watch after time spent in Dry Fly Wheat Whiskey Barrels. Pelican's award-winning MacPelican's Wee Heavy emerged recognizably Wee Heavy, but with added notes of chocolate covered cherries, toasted oak, spice and vanilla in the aroma. The first sip produces flavors reminiscent of malted milk balls and crème brûlée with a silky smooth mouthfeel. Sail with the Captain and you'll find dried apricots, sherry-like flavors and dark marmalade.
Rogue Chocolate Stout
5.8% ABV, 69 IBU
NEWPORT: In 1988, down in Ashland, Oregon, Jack Joyce brewed Rogue Ales in a basement. A year later, he opened a second location in Newport, Oregon, where John Maier created Rogue Ales brew #1 (he retired last summer). One of the pioneers in the craft-brewing world, Rogue consistently puts out award-winning beers year after year, winning gold in national and international competitions. Chocolate Stout is Rogue's platinum award-winning Shakespeare Oatmeal Stout — one of the highest rated stouts in the world — infused with decadent Dutch chocolate.
North Jetty Graveyard of the Pacific
10.4% ABV, 65 IBU
LONG BEACH: Michelle and Erik Svendsen, wife and husband and brewers, opened North Jetty Brewing at Washington's Long Beach Peninsula more than five years ago. Collaboration with Heathen Brewing, North Jetty's Graveyard of the Pacific is a full-bodied imperial red bursting with aroma and flavor from a hardy dose of Amarillo, Galaxy, Columbus, and Simcoe hops. Citrus sits in the front followed by a hint of passion fruit and floral. Expect a touch of earthiness and roast roll over the palate in the malty finish.
Buoy Another IPA
6.5% ABV, 60 IBU
ASTORIA: Situated on the planks of the Riverwalk overhanging the Columbia, 7-year-old Buoy Beer has established itself as a treasure of the Oregon Coast. Outside, sea lions bark as cargo ships creep by. Inside, a buoy-shaped tasting tray includes an excellent IPA, Pilsner, Helles and Another IPA, which is tropical, citrusy, and dank to the max. Light in color, this American IPA is hop-focused, packed with Strata, El Dorado, and Comet hops.
---