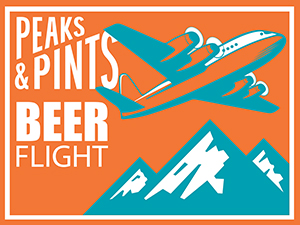 In 2016, Dan and Karen Powell, and their head brewer Zack Frasher, opened Moonraker Brewing Co. in the same Auburn, California industrial park as Knee Deep Brewing, and was later honored as the ninth-best new brewery in the world by RateBeer, a resource for craft beer enthusiasts. Along with additional honors from RateBeer, Moonraker has received recognition in other competitions, including the California State Fair and their Extremis toppled Russian River's stalwart Pliny the Younger to win the 2017 Bistro Double IPA Festival's triple IPA category. Moonraker's solar powered facility cranks out highly coveted New England style hazy beers, including several in today's to-beer flight, Peaks and Pints Pilot Program: Moonraker On the Fly.
Peaks and Pints Pilot Program: Moonraker On the Fly
Moonraker Foam Walker
8% ABV, 10 IBU
Nitro coffee stouts are bubbling up in craft beer bars and breweries almost everywhere. The nitrogen-infused beverage became one of the hottest new offerings for coffee lovers looking for something different. Moonraker's creamy version, Foam Walker, blends exceptionally fresh and extremely smooth coffee beans with a touch of vanilla and sea salt for a roasted coffee, some caramel, dark chocolate, touch of sea salt on the nose, followed by more roasted coffee, dark chocolate, some caramel, hints of salt, and vanilla.
Moonraker No Plans No Problems (Mountain Bike)
6% ABV
This West Coast pale ale is for outdoor enthusiasts. A perfect way to cap a day on your mountain biker. Fifth in the series; this one is brewed with Citra, Mosaic, Centennial, and Chinook hops for a lovely pale ale with a floral, grassy and crushable flavor profile.
Moonraker Tropical Existence
7% ABV, 30 IBU
Somewhere between the surge of sour beers in the U.S. and the relentless hazy IPA craze, a handful of brewers started releasing sour IPAs made with the softest malts, the trendiest hops, milk sugar, and the most luscious fruit purées. Moonraker's version, Tropical Existence, is brewed with Citra and Sabro hops, complex cherry, coconut, orange, and pineapple with milk sugar and vanilla beans. The result is a tart beer with lots of citrus and tropical flavor and aroma.
Moonraker Some Grass
7% ABV
Born in 2009, Strata, formerly known as X-331, is the progeny of an open-pollinated Perle located in an Oregon State University experimental field at Corvallis, Oregon. The hop produces flavors of strawberry, passionfruit, grapefruit, and dankness. Added with Citra's citrus brewing characteristics, Moonraker's Some Grass hazy IPA billows of dank fruity pebble oil clouds with orange on the nose followed by pine, citrus, tropical and dank notes.
Moonraker Amelia
7% ABV, 30 IBU
Amelia Earhart, fondly known as "Lady Lindy," the first female pilot to fly across the Atlantic Ocean, mysteriously disappeared while flying over the Pacific Ocean in 1937 while trying to circumnavigate the globe from the equator. Earhart was the 16th woman to be issued a pilot's license. Moonraker brewed this hazy coconut IPA in honor of Earhart, layering the beer with massive amounts of toasted coconut and lactose. Citra and Mosaic hops bring out tropical bursts of peach, apricot and mango. The mouthfeel is smooth, creamy, and pillowy.
Moonraker Zulu Haze
6.8% ABV, 50 IBU
This New England style IPA makes its third appearance at Peaks and Pints. Moonraker uses a simple grain bill and a significant portion of flaked oats in Zulu Haze. Simcoe and Citra hops work in harmony for huge flavors and aromas of evergreen, melon, guava, citrus, and passionfruit.
Moonraker Juice Nukem
8% ABV, 60 IBU
Duke Nukem first appeared in the 1991 eponymous video game, developed by Apogee Software, as a muscular cigar-chomping man who always wears Ray-Bans and sports a flat-top haircut as he fights aliens to save planet Earth by using enormous physical strength and his expertise in firearms. A Duke Nukem-like character dons Moonraker's hazy double IPA, Juice Nukem. This juice bomb is brewed with Citra, Simcoe, Columbus, Mosaic, and Amarillo  hops for flavors of nectarines, peaches, bubblegum, and fresh herbs.
Moonraker Papillon
8.5% ABV, 60 IBU
Pavilion ("a building with open sides") comes from Anglo-Norman pavilloun, from Old French paveillon, which in more recent times had the same meaning but once meant "butterfly." Yes, you read that right; Moonraker's Papillon, a hazy double IPA with a butterfly on the can, is named after pavilions, which were tents, that bore some kind of a resemblance to butterfly wings, enough to merit such a name. Anyway, the name goes back to the Latin word papillionem, which doubled in meaning as "butterfly" and "moth." Usage of both papillon and pavilion have plateaued over time. When you enjoy Moonraker's Papillon with loads of citrus from Strata, Citra, and Simcoe hops, make sure your covered area doesn't fly away.
LINK: Peaks & Pints cooler inventory
---