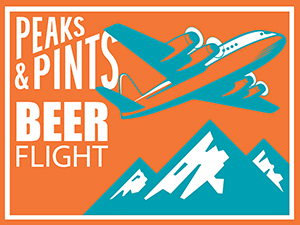 What are Mexican lagers? Some say their entire reason for existence is to lull the drinker into an 18-minute vacation. Others claim they were invented to soothe a grass-torn throat after mowing the lawn. Or, maybe even to serve as a crisp contradiction to the 10,000 Taco Tuesdays in Tacoma. It's still common belief that Mexican-style lagers are simply Vienna-style lagers based on the preferences of early German expats in Mexico. But based on contemporary Mexican lagers, they vary widely in flavor, style, and appearance, and, therefore, so do the American-made Mexican-style lagers that pay homage to them. Because the Brewer's Association doesn't even classify Mexican-style lagers as their own category, American craft brewer are set on making their Mexican-style lager unique, with plenty of ideas to help you party with their smooth, crisp cervezas. With plenty of time to stock up for Cinco de Mayo (a story for another day), Peaks and Pints presents a to-go flight of Mexican-style lagers — a flight we call Peaks and Pints Pilot Program: Mexican Lager On the Fly.
Peaks and Pints Pilot Program: Mexican Lager On the Fly
Matchless Mexico Gold Lager
4% ABV
Brewed with Pilsner and Vienna malts, plus flaked corn, balances with a dose of Wakatu hops equal one seriously crushable Mexican-style lager. It hits the nose with a faint grain followed by toasty grain flavor plus vibrant yet gentle hop presence.
Rainy Daze Lucha Libre
4.9% ABV, 12 IBU
Modern Mexican lagers find their origin in the late 19th century when German and Austrian immigrants began brewing the beers of their homeland in Mexico. When Austria's Maximilian I declared himself emperor of Mexico in 1864, he brought his nation's newly beloved Vienna lager with him. The beer proved more popular in Mexico than Maximilian, who was executed just a few years later. The Vienna lager became the dominant beer in Mexico entering the 20th century. From the moment you shove your nose in a pour of Rainy Daze Lucha Libre Mexican Lager, you're immediately greeted with all the notes you'd expect from a traditional Mexican beer — grain husks, dried maize and a strong whiff of sulfur. This lager is crisp with light malt notes, slight corn sweetness and, of course, low bitterness.
Wet Coast Costa Humeda Mexican Lager
4.9% ABV, 22 IBU
The Viennese lager is widely regarded as an original lager style. The beer shared its name with the Austrian city where brewer Anton Dreher first brewed it with an isolated lager yeast, revolutionary for its time. The combination of the new lager yeast and the invention of high-temperature-controlled malting yielded a reddish beer, from the Vienna malt that was clean tasting due to the yeast. Wet Coast's Costa Humeda Mexican Lager brings Vienna, Pilsner and Chocolate malts together with just a touch of flaked corn to create an easy drinking Lager that is full of character. Expect notes of sweet malt and chocolate.
Wet Coast Costa Mejor Mexican Golden Lager
4.9% ABV, 20 IBU
The Mexican Lager style is controversial because it can refer to many different beers, but generally, the reference is to a clean lager with low bitterness and high clarity. The use of corn in the form of flaked maize is to enhance crispness and decrease the cost of the malt bill. Flaked maise is corn with proteins, oils and other components removed that can be added to a mash during the brewing process. Pilsner malt is typically the base malt with more of an amber color will commonly also use Vienna, Munich, Victory, and other similar malts to impart their respective characteristics. Wet Coast brews their Costa Mejor Mexican Golden Lager with Pilsner and Vienna malts and flaked maize plus a slightly spicy bouquet of hops.
Reuben's Southsun
4.8% ABV
For the most part, Mexican-style lagers are relatively clean, have practically zero bitterness, but also aren't cloyingly sweet. Part of their magic is the addition of flaked corn, which typically dries the beer out slightly, adds a subtle crispiness, and protein-induced haziness is reduced and thus clarity is boosted. Reuben's Brews thirst-quenching, Mexican light lager is brewed with flaked corn, as well as Vienna and Pilsner malts, for a light, smooth body, and delicate Saaz hops pack just the right crisp flavor.
Ex Novo Milagro Oscura
5.8% ABV, 18 IBU
Drawing inspiration from the brown and amber, or oscura (dark), lagers of Mexico, Ex Novo Brewing's Milagro Oscura Mexican-style dark lager is a medium bodied toasty lager with notes of bread crust, caramel and light roast with lace like a dry stout, yet crisp and refreshing like a lager.
---