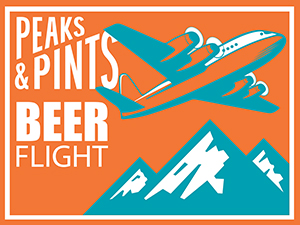 Long before the arrival of Europeans, Native Americans were producing maple sugar to flavor their food and as a valuable item for trade. Colonists learned the technique from Native Americans and used maple sugar in place of cane sugar, which was then an expensive luxury. Nicknamed the sugarbush, the sugar maple yields sap that is boiled and concentrated into one of the best reasons to wake up any morning: an amber or golden maple syrup to douse pancakes and waffles — or add to craft beer. It's healthful, too: high in manganese and zinc, maple syrup is touted to help strengthen the immune system. It has antioxidant compounds, and research continues to tie its beneficial effects to the prevention of neurodegenerative diseases. Anyhoo, Peaks and Pints is a craft beer bar, bottle shop and restaurant, not a maple syrup store. Brewers do, however, add maple to their beers, which is right up our alley. Stop by Peaks and Pints today for a to-go flight of beer brewed with maple that we call Peaks and Pints Pilot Program: Maple On The Fly.
Peaks and Pints Pilot Program: Maple On The Fly
Evil Twin Dumb Fruit #7
6.6% ABV, can
Evil Twin Brewing's sour series lands in autumn with version number seven, brewed in Brooklyn, New York. This smoothie sour is brewed with apple, cranberry, pear, maple, and lactose. The rich and very sweet sour leans more toward maple and cranberry than the other flavors.
450 North Peanut Butter Stuffed French Toast Puffs
ABV NA, can
During your childhood, you had a Saturday morning routine. You'd tiptoed in footie pajamas past your parents' bedroom toward the cereal cabinet for greatness in a box, the all-sugar-little-added-value, strangely colored food group known as breakfast food. Oh, joy! You poured Cocoa Puffs into a Slurpee cup as to not alert of your early feeding. Ok, maybe that was just Peaks and Pints. We're not sure of the 450 North Brewing had similar weekend breakfast habits, but it's our guess they were cuckoo for Cocoa Puffs too. Their Peanut Butter Stuffed French Toast Puffs is a pastry stout conditioned on peanut butter, cream cheese, maple syrup, and lactose.
pFriem Maple Syrup Barrel Aged Smoked Porter
9.1% ABV, 45 IBU, draft
pFriem Family Brewers' porter is made with smoked malt brewed to high strength, then aged in barrels first used for bourbon, then maple syrup, and finally this Maple Syrup Barrel Aged Smoked Porter. It's potent, smoky, and rich, with the aroma of syrup you'd drizzle on a stack of flapjacks, followed by notes of pecan pie baking in a wood-fired oven, rich toffee, and dark chocolate delight the palate before giving way to a decadent finish.
pFriem Maple Barrel Aged Pastry Stout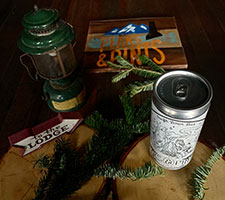 8.5% ABV, 65 IBU, draft
Brewed with Simpson's malt — Finest Marris Otter, Crisp Pale Chocolate, Crystal Dark, DRC, Chocolate malt — plus Weyeremann Special De-Husked Carafa II, pFriem Maple Barrel Aged Pastry Stout is aged in bourbon barrels that once held maple syrup for aromas of bourbon-spiked coffee, maple syrup, and baker's chocolate. A sip brings flavors of tiramisu, mocha, coffee liqueur and maple candies. Expect a silky vanilla fresh-ground espresso finish.
Mason Ale Works Children of Loki
13.5 ABV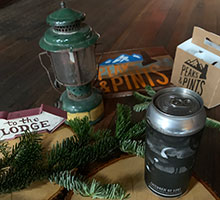 Who are Loki's offspring? With the female giant Angerboda, Loki produced the progeny Hel, the goddess of death; Jörmungand, the serpent that surrounds the world; and Fenrir, the wolf. Loki is also credited with giving birth to Sleipnir, Odin's eight-legged horse. According to Mason Ale Works, Loki is also credited with giving birth to Banana, Cacao, Maple Syrup, Vanilla, Small Batch Coffee, and 13.5 percent ABV. Those flavors and facts describe this thick banana pancake-inspired pastry stout, which also describes our breakfast tomorrow.
LINK: Peaks & Pints cooler inventory
---