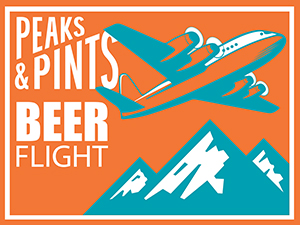 Mangos were first cultivated in India 5000 years ago and traveled to Southeast Asia between the 5th and 4th centuries BC. In the 10th Century AD where cultivation began in East Africa. The paisley pattern developed in India is said to be based off of the shape of the mango. It is the national fruit of India, Pakistan, and the Philippines, while also being the national tree of Bangladesh. The mango is cultivated in most frost-free tropical climates, with almost half the world's mango supply harvested in India, with the second-largest source being China. The yellow fruit will take center stage today in Pints & Pints' to-go flight: Peaks and Pints Pilot Program: Mango On the Fly.
Peaks and Pints Pilot Program: Mango On the Fly
Duggess/Stillwater Mango Mango Mango Sour
4.5% ABV
"If you're going to put fruit in a beer, there's no better fruit to use then mango," says Magnus at Dugges Bryggeri. So, when there was time for another Dugges and Stillwater Artisanal collaboration, Magnus posed the idea of a mango beer to Brian of Stillwater. Turns out, Brian had the same idea about mango and beer as Magnus. So, they brewed this sour with two types of mango fruit and Mosaic hops for true depth of mango flavor through tart and sweet portions of the endless mango waves.
Trap Door Mango Lassi
4.8% ABV
What is a lassi? It's a silky, iced blend of yogurt, water, fruit, sugar and spices, somewhere between milk and a milkshake in terms of thickness. It's unclear exactly how the word originated — Wikipedia suggests it was a corruption of a Hindi word for juicy (rassila), while American Heritage Dictionary traces it to Sanskrit (rasah) — but it seems to have entered the American culinary lexicon only within the past three or four decades. Trap Door Brewing says its is a sweet and sour gose is brewed with mango purée, Indian vanilla beans, lactose, and sea salt.
Matchless Mangos For Us
6.7% ABV
"Some say it's peaches, but it's Mangos For Us," states Matchless Brewing in regards to their new mango flavored hazy IPA. Mangos For Us is brewed with El Dorado, Mosaic, and Idaho 7 hops with a touch of Vic Secret paired with mangos on a bed of flaked wheat and flaked oats. It's hoppy with a kiss of tropical mango.
Bale Breaker Sesiones del Migrante Mango IPA
5.9% ABV, 30 IBU
This IPA has quite the story. In May 2017, two of Bale Breaker's brewer-owners, Kevin Quinn and Kevin Smith, traveled to Mexico to brew beer with California breweries Ronin Fermentation Project from Truckee and SouthNorte Beer from San Diego. At Cerveza Loba brewery in Guadalajara, the brewers concocted Loba Nómada, a New England-style IPA featuring hand-peeled mangoes, a homegrown ingredient. At Cerveceria de Colima in Colima, they brewed Vale Bale, an IPA with local coconuts. In early August 2017, brewers from all four collaborating breweries came to Yakima to brew Bale Breaker's inaugural Sesiones del Migrante Mango IPA featuring the freshest Yakima Valley hops. Sesiones del Migrante Mango IPA is fermented with 20 pounds per barrel of mango puree and dry hopped with Citra, HBC 630, and Ekuanot from YCH Hops. A portion of the proceeds will benefit La Casa Hogar, a Yakima non-profit that connects and educates Latina families.
---