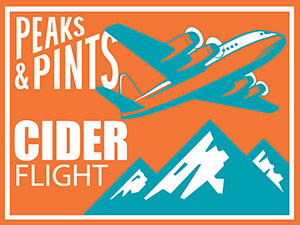 It's 2040. You take the light rail from Tacoma to Yelm. Maybe you hop on a shuttle to work downtown. Or maybe leave your solar home and ride on the multi-use path and buffered bike lane to the Space Force recruitment center in the Port of Tacoma. Maybe you'll see the future in award-winning filmmaker Damon Gameau's hybrid documentary 2040 showing in The Grand Cinema's Virtual Screening Room. Gameau vividly imagines a future for his daughter, Velvet, one where existing solutions to climate change are widely adopted and create a greener, more equitable world. Gameau embarks on a quest across the globe in "an exercise in fact-based dreaming." Stop by Peaks and Pints for a to-go cider flight before watching Gameau embrace existing solutions to improve our planet and bring them into the mainstream at home. Your future includes Peaks and Pints Cider Flight and a Movie: 2040. Your future is barrel-aged cider.
Peaks and Pints Cider Flight and a Movie: 2040
Chatter Creek Barrel Roll
6.9% ABV
Gordon Rawson began making wine in the early 1980s as a home winemaker. Some of his first wine came from fresh apple juice purchased from the local grocery. Fun, but he desired to be a serious winemaker. After working for Columbia Winery as cellarmaster for nearly a decade, Gordon Rawson opened Chatter Creek Winery in 1996 to produce top-quality sparkling wines in Woodinville, Washington. In 1998, he broadened the focus of Chatter Creek to include still wines. Early in 2000, he departed Columbia Winery to focus solely on Chatter Creek. After a bad day making wine, he bought some apples to clear his mind. Next thing he knew, he added ciders to his label. One day, he took apple cider and aged it in spent barrels of Woodinville Bourbon Whiskey for four months. Apple cider plus bourbon barrels equals notes of bourbon, oak, vanilla, and lemon.
Tieton Bourbon Barrel Cherry
6.9% ABV
In 2008, Craig Campbell and his wife, Sharon, began experimenting with making cider from dessert apples grown in their 400-acre commercial fruit orchards in Yakima, Washington. Despite naysayers who warned that cider apples required a maritime climate, Craig also planted a two-acre test orchard with 25 varieties of cider apples. Today, their two-acre experiment expanded into Tieton Cider Works with a 30-acre "high-density" cider orchard. Tieton Bourbon Barrel Cherry has juice from handpicked Washington state cherries and receives its deep vanilla and plum character from aging in bourbon barrels.
WildCraft Pinot Barrel Aged Cherry Cider
7.2% ABV
WildCraft Cider works grabbed "Best Year Round Cider" at the 2017 World Cider Champions for their Pinot Barrel Aged Cherry Cider. The award-winning cider is made from pure freeze-pressed cherry wine produced from a variety of Lane County cherries, aged five months in French oak Pinot Noir barrels. This wine is then blended with a naturally fermented, wild harvested cider for a full-bodied, high tannin complex cider. It hits the nose with cherry preserve, Pinot Noir, floral yeast, rose hip and rose petal. It's slightly chewy with a crisp, effervescent, dry light body and a complex, medium-long taro custard, cherry skin, yeasty coffee cake, and herbal lozenge finish.
Sea Cider Prohibition
12.5% ABV
Sea Cider Farm and Ciderhouse, overlooking the Haro Strait, an important orca whale habitat, is a farm-based cidery in Saanichton, near Victoria on Vancouver Island, British Columbia. Founded by sixth-generation farmer Kristen Needham, Sea Cider uses their own traditional English bittersweets and bittersharps, plus heritage apples from around Victoria. Their Prohibition cider is apple wine flavored and colored with molasses and aged in bourbon barrels for six months. The secret of Prohibition lies in the barrel. Rich, full-bodied and intriguing Newfoundland Screech barrels were the inspiration for Prohibition, which opens up to reveal notes of molasses, apples and sugar cane.
---