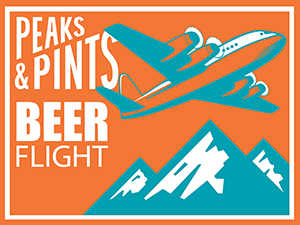 In 2013, co-founders Bill Arnott and Alex Brenner began brewing English style beers in a building that was once home to Seattle Brewing and Malting, which went on to become better known as the brewer of Rainier Beer. The duo bought Two Beers Brewing's 7bbl system and opened Machine House Brewery in Rainier Beer's "Malt House" in Georgetown. Before moving to Seattle, Arnott was head brewer at Tipple's Brewery in Norwich, England, which explains why Machine House focuses on true British "real ale" and cask ales hand-pumped into the pint glass, with only its naturally occurring carbonation, and at cellar temperature, rather than refrigerated. Stop by Peaks & Pints and grab a to-go flight of Machine House big beers — a flight we named, Peaks and Pints Pilot Program: Machine House XX Beer Flight.
Peaks and Pints Pilot Program: Machine House XX Beer Flight
Machine House 1890 Suffolk XX
6% ABV
Machine House's 1890 Suffolk XX is a historical mild recipe brewed with beer historian Ron Pattinson. Based on a recipe from Southwold, Suffolk UK, this XXXX mild is brewed with Maris Otter and a large percentage of No.1 Invert Sugar.  Hopped at a high rate with East Kent Goldings and whole-leaf Hallertau Mittelfruh hops, this soft beer sports light bitterness and a hint of toffee.
Machine House 1904 Albany XX
5.4% ABV
Another historical mild recipe brewed in collaboration with beer historian Ron Pattinson — this time based on a recipe from Albany, New York. This XX mild is brewed with American 6-row malt, large amounts of flaked corn and glucose, and a touch of black malt for a light body and nice amber color.  Hopped with US Cluster hops, 1904 Albany XX hits the nose with lightly husky grainy malt, graham crackers, rye bread, and subtle floral notes. Flavor is grainy biscuit malt, grassy hops, rye and brown bread and crackers with some mild floral and peppery notes.
Machine House XX
7.4% ABV
Brewed in collaboration with Floodland Brewing and Heirloom Rustic Ales, this strong pale mild ale is a modern interpretation of a 19th century XX. Brewed with 100 percent Marris Otter Malt and hopped heavily in the kettle with Fuggles and Goldings, and in the hopback with whole-leaf Hallertau Mittelfruh, this unique beer hits the nose with biscuit malt, grassy hops, graham cracker, summer hay, and floral notes. On the tongue, expect biscuit malt, grass, and floral hops again with apple, graham and white crackers, and subtle fruit esters.
Machine House Imperial Coffee Stout
8.2% ABV
OK, we also added this collaboration with Bottleworks, because it's so freakin' delicious. This imperial stout is brewed with El Salvadorian coffee beans from Seattle's Onda Origins balanced by restrained roast, chocolate, and bitterness, resulting in a super smooth beer with unique characteristics.
LINK: Peaks & Pints cooler inventory
---