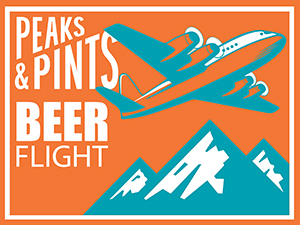 Bret Gordon left the University of Colorado with a degree in Economics and a passion for craft beer. He continued into the finance world, probably sipping an Avery Brewing beer here and there.  It didn't take long for him to realize that being at a desk was not for him and he wanted to become a professional brewer. That passion led him and his family to California where he went back to school to earn a Professional Brewing Certificate at the University of San Diego. He swore he would never go back to school, but beer will make you do some crazy things. From there, Gordon worked as a professional brewer for several years at SoCal breweries, including The Bruery. In 2018, Gordon and his family traveled north to Spokane and opened Lumberbeard Brewing, a 20-barrel brewhouse on the east end of downtown. Today, Peaks & Pints salutes Lumberbeard with a to-go flight of their beer. It's a flight we're calling Peaks and Pints Pilot Program: Lumberbeard Beer Flight.
Peaks and Pints Pilot Program: Lumberbeard Beer Flight
Lumberbeard Plumcran Zuff
6.3% ABV
It beginning to look a lot like Christmas. This beautifully pink kettle sour has notes of plums, cranberries, and cinnamon with a touch of vanilla to smooth everything for cozy holiday flavors in each sip.
Lumberbeard Hops In Here
6.4% ABV
Breweries incorporate wheat and oats to boost body and mouthfeel, as well as to lend opaque looks, while hops are added at the end of brewing for maximum aroma and flavor and minimum bitterness. Hazy session IPAs mimic the stronger stuff in everything but alcohol, creating opportunities for sipping — and selling — more beer. Lumberbeard's Hops In Here rings in at 6.4% for an easy-drinking, hazy experience. Brewed with El Dorado, Bru-1, and Galaxy hops, expect notes of tropical fruit such as mango and kiwi in each sip.
Lumberbeard Dope Sauce
6.7% ABV
Whether it's the Southern California apparel company for rad sports, or the related Urban Dictionary meaning as, "The epitome of cool, one who is dope sauce sides with ease through daily problems," dope sauce is super-duper. Naturally, Lumberbeard Brewing chose the term for their new hazy IPA brewed with Nelson Sauvin, Idaho Gem, and Azalea hops for aromas of white peach and limeade with flavors of pineapple and subtle cherry. Expect big blueberry flavor with light roast on the sweet finish. Think sugary coffee with a side of blueberry doughnut.
Lumberbeard Muffintop Breakfast
7% ABV
A collaboration with Urban Family Brewing and dosed with Spokane roasted coffee beans from Indaba Coffee, Muffintop Breakfast pastry stout offers flavors of blueberry, vanilla, lactose, coffee, and maple syrup.
Lumberbeard Barrel Fort
15.6% ABV
The first release in their Barrel Fort series, this boozy, bourbon barrel aged stout sees a hefty dose of hazelnut. On the nose, expect whiskey-infused, honey-roasted aromas. On the tongue, toasty hazelnut tones blend with ribbons of milk chocolate nuances and roasty malt. Sociable accents of vanilla, nuts, oak, and a cinnamon whiskey spice linger on the finish.
Lumberbeard Anniversary Year 3
16.8% ABV
Sure, everyone loves anniversary cake, but Lumberbeard didn't name themselves Lumberbeard Cakes for a reason. They brew beer, including a big barleywine for their third anniversary back in January. Year 3 is a is a blend of 1-year-old, 2-year-old, and 3-year-old bourbon barrel-aged barleywine. This is a hefty beer with each sip full of caramel, fig, and bourbon notes. Think bourbon-soaked pecan pie.
LINK: Peaks & Pints cooler inventory
---