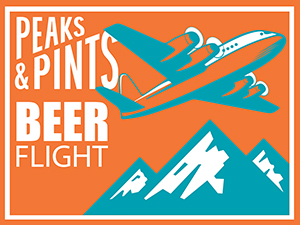 Logsdon Farmhouse Ales was started by Full Sail founding brewer and yeast master Dave Logsdon who has a special affinity for traditional Belgian-style farmhouse ales. When he launched the Hood River, Oregon brewery, he planted an orchard on the property with Belgium-imported Schaerbeekse trees. These trees grow the sour cherries necessary to craft authentic kriek beers. Dave Logsdon has since retired from full-time day-to-day operations, with John Plutshack and his wife Jodie Ayura managing brewery operations with Head Brewer Shilpi Halemane and Assistant Brewer Mark Pearson running the beer side. Logsdon has more big changes on the horizon, including collaboration with Heater Allen and Breakside Brewery. In the meantime, Peaks and Pints offers a to-go flight of Logsdon's new and old beers — a flight we call Peaks and Pints Pilot Program: Logsdon On the Fly.
Peaks and Pints Pilot Program: Logsdon On the Fly
Logsdon Zuurprium
8% ABV
This Logsdon mixed culture farmhouse ale is aged in neutral oak on Japanese Beaut plums, blended with a small amount of barrel aged spontaneous beer for all the plum, plus tartness with subtle funk. Oh, and ZuurPrium earned back-to-back gold medals at the Oregon Beer Awards, as well as a silver medal at 2017 GABF and silver medal at 2018 World Beer Cup.
Logsdon Two Rivers Blanc
8% ABV
Two Rivers Blanc is a blend of 60 percent Riesling Golden Ale, 5 percent Chardonnay saison, 25 percent Foeder-aged Tart Saison, and 10 percent Young Brett Table Saison aged with Riesling and Chardonnay grapes. Expect a funky, juicy, medium-tart mixed culture farmhouse ale with aromas and flavors of honey, orange zest, and stone fruit.
Logsdon Two Rivers Noir
8.5% ABV
Two Rivers Noir is a blend of 55 percent Saison with Pinot Noir from Dominio IV, 20 percent Saison with Pinot Noir from Scappoose, 4 percent Foeder-aged Saison with house mixed culture, and 19 percent Young Saison with Brettanomyces aged with nearly two pounds of Pinot Noir grapes from the Willamette Valley. Expect a blush hued, luscious saison with aromas and flavors of currents, red berries, rose petals, and a hint of black pepper.
Logsdon Massif Attack IPA
6.5% ABV, 60 IBU
Logsdon invited the IPA-loving crew from Structures Brewing down from Bellingham to brew this hybrid of old school IPA ingredients and new school IPA brewing methods. Brewed with a blend of each brewery's respective house malts, wheat, and lots of oats, the mouthfeel arrives creamy smooth. Moderate bitterness from Saphir hops and juicy flavor from ample Amarillo in the whirlpool are supported by a generous double dry hop of Citra and Amarillo, packing a potent citrusy aromatic punch.
LINK: Peaks & Pints cooler inventory
---