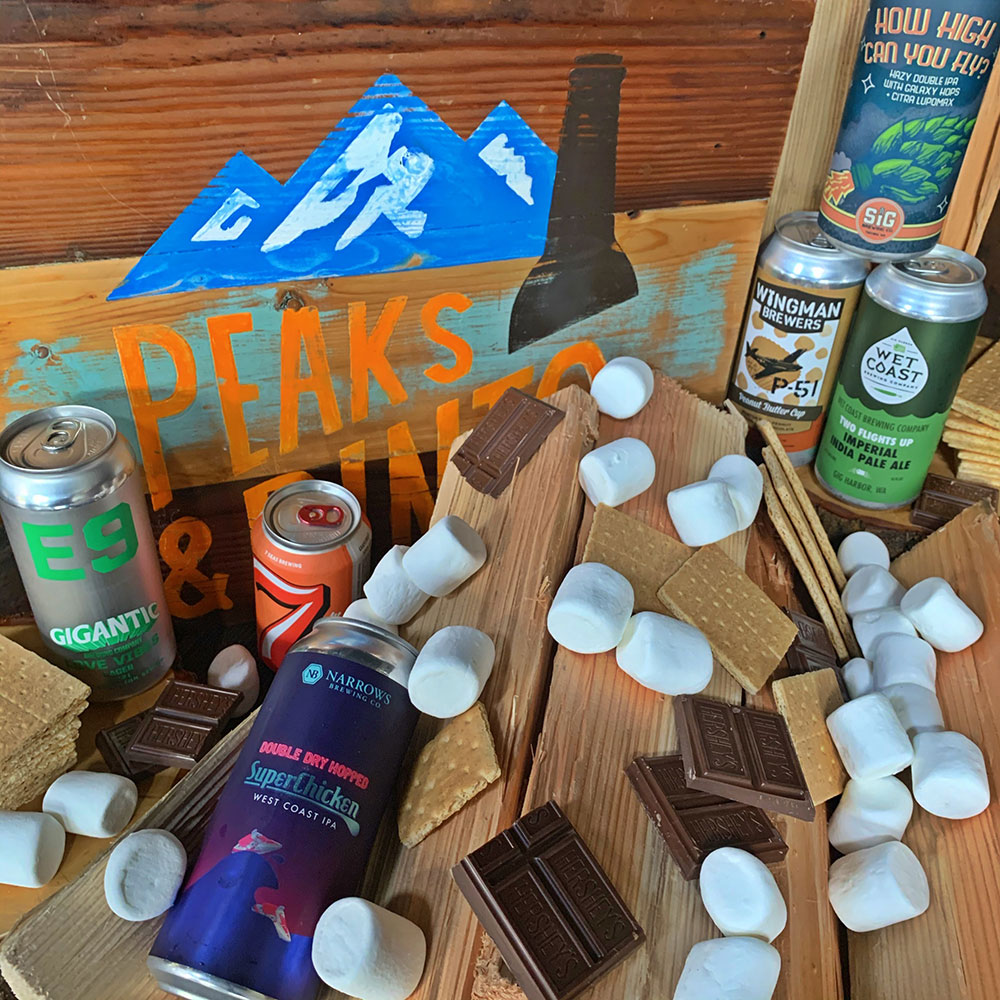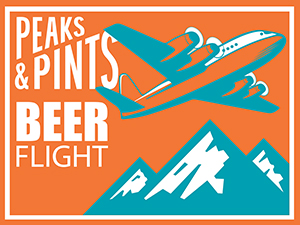 The unofficial start of summer is officially here. As the amuse bouche of the summer season, Memorial Day weekend brings with it all the sweet signs of the warm weather to come in the greater Tacoma area. From barbecues and baseball games to road trips and chill nights around a campfire, there are so many excuses to celebrate over the (much needed) long weekend. While you relax over the next few days, make sure to include a few local sips as well. With vaccination rates up across the South Puget Sound, many family members and friends will reunite for the first time in a long time. Stay safe and catch up over our to-go beer flight, Peaks and Pints Pilot Program: Local Beer Memorial Day Weekend.
Peaks and Pints Pilot Program: Local Beer Memorial Day Weekend
7 Seas Grapefruit Sour
4.7% ABV
7 Seas Brewing Grapefruit Sour is a modern twist on the ancient gose style; if you took a grapefruit and ran it through a Vitamix, it would look just like this beer. Grapefruit Sour Ale is a refreshingly tart sour loaded with pureed grapefruit. The grapefruit helps balance out the San Juan Island sea salt. Unlike other goses, this sour doesn't contain coriander. What you do get is plenty of that bright, lacto sour sitting right along the fruit, reminding you that, hey, this is a beer after all. Pilsner malt and malted wheat are also behind the giant red "7" on the can, but good luck tasting it in all the fruit flavor.
E9 Love Vibes
5.2% ABV
E9 Brewing, Tacoma's first craft brewery, teamed up with Gigantic Brewing to brew the single hop Italian pilsner, Love Vibes. It's brewed with Experimental Hopsteiner X13459 hop, which is known for having a sweet citrus, tropical, floral, peach and berry aroma and flavor. The two breweries brewed this hoppy pilsner with the intent it be enjoyed with experimental music.
Wingman P-51 Peanut Butter Cup Porter
8% ABV
Wingman Brewers introduced a peanut butter and coconut porter to the Port Townsend Strange Brewfest several years ago. At its 2014 Porterpalooza festival, the Tacoma brewery dropped the coconut and added chocolate. It was a huge hit. It re-appeared for Porterpalooza 2015, this time in 22-ounce bottles as a seasonal. Peanut Butter Cup Porter tastes like a Reese's Peanut Butter Cup full of rich peanut, chocolate, some light roasted notes and a decent amount of sweetness.
Narrows Superchicken
7.5% ABV, 50 IBU
The Tacoma Narrows, a strait, is a navigable maritime waterway between Kitsap Peninsula and the city of Tacoma. Narrows Brewing sits on piling above the waterway brewing the hell out of hazy IPAs, although their Superchicken West Coast IPA is a delicious alternative. Brewed with Pilsner malt and classic hops Amarillo, Apollo, Chinook and Simcoe, Superchicken was left to condition for close to a month and now comes to you refined and ready for drinking on the water this weekend.
Sig How High Can You Fly?
8.3% ABV
Sig Brewing took their haziest hazy IPA and double dry hopped it with Galaxy and Citra LUPOMAX, the latter being a new concentrated pellet that is consistent, efficient, and optimized for hop flavor. LUPOMAX has less vegetative matter compared to regular hop pellets for bigger, bolder, and bright hop flavors, which Sig found success with this double IPA. Think, juicy citrus pith, big melon middle, rounded out by a cool pineapple tropical-dank medley.
Wet Coast Two Flights Up
8.2% ABV, 92 IBU
Wet Coast Brewing's Two Flights Up was nominated as a sixth seed in the Southern Washington Region of the Peaks & Pints Tournament of Beer: NW Double IPAs held last month. Bryan Copeland and Aaron Johnson's double IPA made into the Great Eight before falling to Bale Breaker's Bottomcutter. It's not a shocker Two Flights made it that far into the tourney. It offers citrus flavors and aromas that shine bright as an assertive bitterness grabs hold of your palate. The beer finishes slightly dry with a mild alcohol warmth.
LINK: Peaks & Pints cooler inventory
---