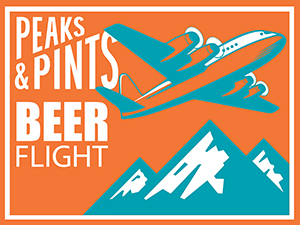 October in Washington brings juicy plums, the smell of boiling Dungeness crab, and pumpkin spice lattes. But for beer drinkers, October still means wet hop beers. One of the most seasonally specific styles that a brewery can make, wet-hop (or fresh-hop — there isn't a difference) beers are brewed with just-harvested whole-cone hops rushed from farms to brew kettles to capture the most vibrant flavors and aromas of these pungent flowers before they begin to fade. This limits the brewing period to the very short hops harvest season every August and September, with the bounty arriving in early October, at least this year. Today, Peaks and Pints presents the last round of wet-hop beers in a to-go flight, Peaks and Pints Pilot Program: Last Fresh Hops On The Fly.
Peaks and Pints Pilot Program: Last Fresh Hops On The Fly
Deschutes Chasin' Freshies
6% ABV, 50 IBU
Inspired by Deschutes Brewery's co-owner's eternal search for fresh powder on the mountain or perfect dirt on the trails, Chasin' Freshies captures hops in their purest form direct from the field. The hops for Chasin' Freshies change year to year and are hand selected in the hop fields alongside the farmers. This year, this clean, crisp fresh hop IPA captures the honeydew melon and tropical passionfruit notes from fresh El Dorado and Zappa hops.
Sierra Nevada Celebration Ale
6.8% ABV, 65 IBU
Now that the weather's stormy, where do all the hops go? They're currently hibernating in this yearly fresh hop seasonal from California's Sierra Nevada brewery. In the midst of the many big and malty winter ales, Celebration Ale provides a comfortable winter home for the season's displaced hops. A little darker than the average American IPA, and dry-hopped for a lively, intense aroma, this ale has a citrusy, piney, and resinous hop character and a medium body.
Top Rung Wet Line Fresh Hop
7.1% ABV
Top Rung Brewing grabbed 360 pounds of fresh, dripping wet Idaho 7 hops from Crosby Hop Farm and rushed it back to their Lacey, Washington brewery where Head Brewer Tyler Mathias coaxed the pineapple explosion, subtle citrus, minor green and chlorophyll-like aroma and flavor from the hops. Expect a soft mouthfeel and all the juice.
Lagunitas Contents Under Fresher
7.7% ABV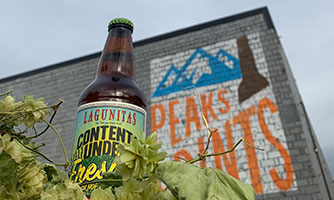 Born Yesterday was a newborn version of Lagunitas Brewing's re-born Pale, a newer New Dogtown Pale with a fresh addition — wet, lupulin-drenched, un-kilned, whole-cone, fresh-picked-and-rushed-straight-from-Yakima hops. The Northern California brewery has since shelfed Born Yesterday replacing it with Contents Under Fresher. This is the latest leap in Lagunitas' never-ending quest for capturing the essence of fresh hops. Contents Under Fresher features whole-cone Mosaic, Citra, Simcoe, and Sabro hops harvested and rushed from their family of farmer friends in Yakima. Expect sweet grassy resiny hop oils, berry, and citrus notes, plus an old school, fresh hop profile through and through.
Rogue Coast Haste
8.6% ABV, 51 IBU
Rogue Ales has released Coast Haste, an imperial hazy IPA made with wet hops straight from Rogue Farms and quickly transported, while still wet, 71 miles to be brewed in Newport on the Oregon Coast. This effort pays off with an incredibly fresh, citrus, tropical fruity, flavorful IPA.
LINK: Peaks & Pints cooler inventory
---