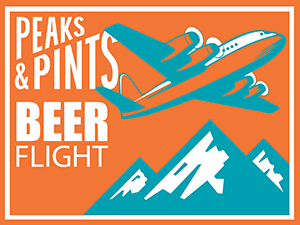 Kulshan Brewing has released their first year-round hazy, Into The Haze, and Peaks & Pints invites you to jump in today. We're tapping Kulshan's new hazy, as well as other hazies and beers from the Bellingham brewery at 6 p.m. tonight. We're also suggesting an all-day, to-go flight of Kulshan beer — a flight we're calling Peaks and Pints Pilot Program: Kulshan Beer Flight. Founded in 2012 by Bellingham native David Vitt, Kulshan Brewing is one of the fastest-growing breweries in Whatcom County. Just one year after opening, they doubled the size of their brewhouse to 15 barrels to keep up with demand. In 2015, Kulshan opened a second brewery, affectionately named "K2", across town with a 30-barrel brewhouse. In 2019, Kulshan won the Peaks & Pints Tournament of Beer: Northwest Pilsners. Last summer, Kulshan opened Trackside Brewery and Beer Garden, is a pilot brewery and seasonal, pop-up beer garden located on the former Georgia Pacific paper mill site in downtown Bellingham's redeveloping waterfront district. In addition to their delicious beers, the Kulshan crew are all about outdoor adventures, dog hugging, collaborations, charitable contributions, and community interaction. Stop by Peaks today and get your Kulshan on.
Peaks and Pints Pilot Program: Kulshan Beer Flight
Kulshan Blood Orange Gose
4% ABV
Gose (pronounced "gose-uh,") is a light-bodied, salty sour ale. Modern craft brewers commonly use a kettle souring process with Lactobacillus, a common bacteria found in yogurt. The gose is an old style of beer dating back centuries to the German cities of Goslar and Leipzig. Kulshan's Blood Orange Gose is their classic gose recipe with a twist. It's kettle soured and then fermented with blood orange juice for a crisp, tart, and refreshing beer with enticing blood orange notes and a slightly sweet finish.
Kulshan Flightless Birds
5% ABV, 20 IBU
The kölsch is neither an ale nor a lager. It's fermented with ale yeast and finished in cold temperatures like a lager. Traditionally, kölsch is associated with a beer from Köln; in Germany it's brewed to strict standards, with 10 to 20 percent wheat. The cold fermentation and aging can add faint hints of pear, apple, or white wine. A collaboration with Wander Brewing, this Kölsch, however, is brewed with Galaxy hops grown in Australia —- a land of many flightless birds. It's a refreshing beer with a crisp malt body and light fruity and floral hop accents.
Kulshan Live Laugh Lager
5.5% ABV, 30 IBU
Kulshan Brewing turned 10 this past spring. "Oh, what a journey it's been," says Kulshan founder Dave Vitt via social media. "When we opened the doors to the brewery 10 years ago, we had no idea what was going to happen. Thanks to an amazing community of employees, friends, family, and beer drinkers we've been able to live out our mission to sustainably produce exceptional beer, bring people together, maintain a fun and fulfilling workplace and give back to our community while we do it. We could not have done it without YOU, the people that make us appreciate the hard work we put in every day, push us to always improve, and give us the support we need to continue doing what we do. For that we say, 'thank you!' We plan to continue working hard toward our mission and look forward to what comes in the next 10 years. Until we see you for the next pint, cheers!" Live Laugh Lager is the third release in Kulshan's 10-year anniversary series. It's a crisp and vibrant American pilsner, boasting refreshing bready malt character and delicate fruity and floral hop notes.
Kulshan Goat Wall
5.5% ABV, 30 IBU
This is the second year Kulshan has brewed their Goat Wall Cold IPA with the Mazama Store, a family owned and operated general store off Highway 20 in Mazama, Washington. Brewed with 2-row, Pilsner malt, Munich malt, flaked oats, and toasted rice, plus Strata, El Dorado, Chinook and Cascade hops, Goat Wall is a crisp, light IPA brewed like a lager.
Kulshan Party In The Woods
5.5% ABV, 41 IBU
Kevin Menard and Kyle Young have been building bikes and friendships in the greater Bellingham mountain bike community for 20 years. And while it seems like yesterday when they were shipping bikes out of Menard's creepy basement, their Transition Bike Company is still rooted in friendships, the riding, and creating a unique place to work. Kulshan's annual collaboration with Transition Bike Co., Party In The Woods is bright hoppy lager is highly crushable and has notes of lush citrus, and tropical fruit.
Kulshan Into The Haze
6.5% ABV
For the last few years, Kulshan has hard at work honing in on their approach to brewing hazy IPAs through their "Hello, Goodbye" series. Fan favorites such as Baby Yoda, Bruce Springskiing, and Keep it Kraken have helped them dial in a year-round hazy. Their R&D has paid off with Into The Haze, a deliciously well-balanced and smooth-drinking hazy IPA. Juicy, sweet citrus notes jump right out of the can with the first sip, followed up with lush, tropical fruit and berry accents.
Kulshan Trackside Haze
6.2% ABV
Out of the haze and frustration of 2020 came Trackside. Last summer, Kulshan opened Trackside Brewery and Beer Garden, is a pilot brewery and seasonal, pop-up beer garden located on the former Georgia Pacific paper mill site in downtown Bellingham's redeveloping waterfront district. Trackside Haze was brewed in celebration of Trackside's reopening for the season in April! A smooth easy-drinking hazy IPA, Trackside Haze bursts with juicy tropical fruit and citrus hop notes.
Kulshan Echoes in Time
9.9% ABV, 75 IBU
Kulshan's Echoes in Time imperial stout is a blend of dark roasted and crystal malts that impart harmonious layers of sweet, bready, and roasty malt notes. Apollo and Willamette hops provide the bitter to balance out the sweet, along with slight earthy and floral hop notes. Full bodied and decadent, Echoes in Time is a dark and sultry delight.
LINK: Peaks & Pints cooler inventory
---
Category:
Beer Line Blog
,
Craft Beer
,
Critical Drinking
,
Events and Festivals
,
Houses of Craft
,
In The Cooler
,
New Releases
,
Peaks and Pints Pilot Program
,
Shop
,
Specials
,
Tacoma events
,
Taps Takeovers