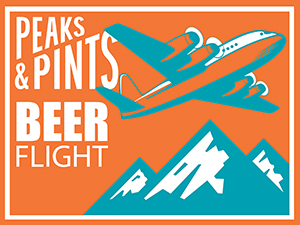 As comedian Steven Wright once said, "24 hours in a day … 24 beers in a case … coincidence?" Peaks & Pints thinks not. There are also seven days in a week and seven summer weather craft beer styles. Coincidence? Peaks & Pints thinks not. Our current hot weather streaks calls for a craft beer with impactful flavor and a light, refreshing finish. While there's a plethora of brew styles out there, some are a little more enjoyable when the sun is beating down relentlessly. Today's to-go beer flight, Peaks and Pints Pilot Program: Hot Weather Beer On the Fly, includes seven styles to enjoy while standing in front of the refrigerator with the door wide open.
Peaks and Pints Pilot Program: Hot Weather Beer On the Fly
Reuben's Razzmatazz Raspberry
3.2% ABV, 3 IBU
BERLINER WEISSE: Berliner weisse is a rare thing: a sour beer, intensely flavored and the embodiment of refreshment. Its tartness is generally mild; its carbonation high; its soft, wheaty flavor refreshing. Reuben's Brews slightly tart and juicy Razzmatazz Raspberry is a Berliner weisse style ale fermented with raspberries that is crisp, refreshing, tart, and balanced.
Cigar City Margarita Gose
4.2% ABV
GOSE: Salt, sugar or nothing? Rocks or blended? Straight or flavored with mango, guava or some other tropical fruit that epitomizes warm beaches, blue seas and palm trees? What other drink gives you so many choices and so quickly brings to mind lazy summer evenings than the margarita, a perfect balance of sweet and tart, ideal for a steamy day. Cigar City Brewing, just off the Gulf of Mexico in Florida, grabbed their German-style gose, an ancient style of low alcohol beer brewed with salt, and gave it the Jimmy Buffett treatment by adding orange peel and lime essence to create a different take on the summer sipper. Beat the heat with Cigar City Margarita Gose while soaking in your kiddie pool.
Little Beast Wolf Camp
6.1% ABV
SAISON: Little Beast Brewing Wolf Camp introduces a subtle and playful spin to a classic Belgian-style saison. The profile of the base beer is traditional for the style with a bold Pilsner malt character. The beer finishes dry from fermentation with two Saccharomyces yeast strains. The hop schedule also matches a traditional style except that with each new batch, Little Beast will dry hop the beer with a different American hop variety — in this case, El Dorado. Wolf Camp jumps on the nose with clove and banana, plus a touch of tropical hops. The palate opens clean and crisp, with pepper, honey, straw and a little clove. A grainy, mildly straw like bread character is present, reminding us of Duvel. There's a mild citrus note with a fair bit of hop snap and a little pepper on the finish.
St. Bernardus Wit
5.5% ABV, 10 IBU
WITBIER: St. Bernardus Wit is a traditional Belgian white beer developed and brewed in collaboration with the legendary Master Brewer Pierre Celis, the Godfather of Hoegaarden and Celis White. A witbier or Belgian wit (white) beer is commonly made with pale barley and unmalted wheat, sometime oats, and in the case of St. Bernardus Wit, a second fermentation in the bottle. This wheat beer is famed for its zesty tastes of coriander and orange, with background touches of spicy cloves, fragrant with fruit and citrus. These zingy herbs combine with the creaminess of the wheat to produce a beer that is well balanced. The mild mouth feel produces a lovely interaction between the sweet malty taste and the refreshing touches of acid to produce a feeling of freshness overall.
Occidental Kölsch
4.5% ABV
KOLSCH: Occidental Brewing's Kölsch reinforces that brewery's reputation for making great German beer styles. The Kölsch is made with ale yeast and is fermented warm, yet commonly aged at colder temperatures, making it a hybrid between the lager and the ale. This is Occidental's homage to the delicious ale of Cologne, Germany. It's effervescent with subtle fruity sweetness, dryness, and a light- to medium-body. Crisp and dry, it is clean and lager-like, with a pleasant, slightly spicy hop profile supplied by German Perle.
Chuckanut Trident Single Hop Lager
5.5% ABV
LAGER: Lagers tend toward a lighter, clear appearance, have a lower alcohol content and a sweeter, smoother, crisp flavor from the higher sugar content, slower fermentation and cold treatment. So … Chuckanut Brewery Trident Single Hop Lager isn't technically a "single hop" because Trident is actually a blend of three different Northwestern hop varietals. Who cares! This lager has is hop forward, citrusy, with subtle notes of passion fruit. Crisp, refreshing and perfect for all you hop heads out there who need something lighter in the July heat.
Firestone Walker Easy Jack
4.5% ABV, 47 IBU
SESSION IPA: Firestone Walker Brewmaster Matt Brynildson traveled to Germany and spent several days in the Hallertau region, the birthplace of hops dating back more than 1,000 years. There, he hung out at small family hop farms and worked with the farmers to secure an ample supply of Mandarina Bavaria and Hull Melon — two backbone hops for Easy Jack. This kickback beer spotlights those spicy, leafy hops; plus a dose of oats smoothes out the sip.
---