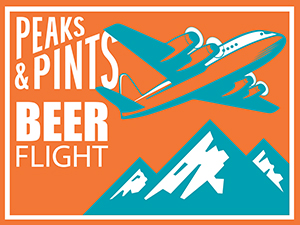 A few days ago, Lowercase Brewing brought in their hoppy Russian imperial stout. Yesterday, Stone's OG Sublimely Self Righteous and Hopworks Ace of Diamonds Imperial Black IPA landed. The Peaks & Pints cooler is rarely a cage fight for renegade roast versus hoptitude in a single can or bottle. After all, dark beers with a strong hop presence are not easy to brew. One of the complexities that makes hoppy dark beers difficult is flavor and perceived bitterness. The darker roasted grains have their own bitterness, and a very pronounced flavor. Darker beers are driven strongly by the malt profile, as opposed to an IPA that is driven by hops. Debittered or lightly roasted grains are needed for a dark tone, while keeping the body flavor itself not too heavy or the hops will disappear. We should take advantage of the new hoppy dark beer arrivals and create a to-go flight. Stop by our craft beer lodge for Peaks and Pints Pilot Program: Hoppy Dark Beers On The Fly.
Peaks and Pints Pilot Program: Hoppy Dark Beers On The Fly
Lowercase Sisters' Sabro
10.1% ABV
Lowercase Brewing Sisters' Sabro dry hopped Russian imperial stout leans toward a triple black IPA due to the Sabro and HBC 472 hops, which also delivers coconut notes. "At hop school in 2015, we distinctly remember Jason Perrault of Perrault Farms speaking in the hop fields about a certain variety that gave off aromas similar to a barrel, things like coconut, vanilla and wood," states Lowercase Sisters' Sabro hype. "Fast forward 5 years … that hop is now known as Sabro … and she has a sister who is even more rambunctious than her, HBC 472. And what's everybody making with them? … IPAs, of course. Cool. We decided to put the hops to the ultimate test by dry hopping a Russian imperial stout." It's delicious.
Hopworks Ace of Diamonds Black IIPA
8% ABV, 80 IBU
The Pacific Northwest's first B Corp brewery, Hopworks Urban Brewery, has expansive plans for 2021 including a new line of imperial IPAs, Ace Series, inspired from its award-winning Ace of Spades series. First up is Ace of Diamonds Black IIPA, a cryo dry hopped imperial black IPA brewed with classic Northwest hops Centennial, Simcoe, Mosaic, and Cascade that lend it citrusy, resinous pine flavors that marry caramel, chocolatey malts with just a hint of roast.
Stone Sublimely Self Righteous Black IPA
8.7% ABV, 90 IBU
Stone Brewing started playing with black IPA recipes in 2006, and first released their version as the brewery's 11th Anniversary Ale. It was later re-branded as Sublimely Self Righteous Ale, and went on to win the bronze at the Great American Beer Festival (GABF) in 2010 —  behind Barley Brown's Brew Pub and Big Rock Chop House & Brewery — the first year that the GABF recognized American-Style Black Ale as a category. Stone Sublimely Self-Righteous Black IPA answers the pleas of fans with its highly anticipated return 14 years later. This hop-heavy IPA is brewed with dark malt so that it pours black with a surprising punch of bitterness balanced by smooth malty character.
---