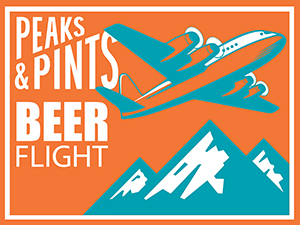 Fresh hop season is a perk you get for living in the Pacific Northwest, with farm-fresh, bright-green hops throwing off beautifully idiosyncratic farm-y notes in beer made just a car ride from where the hops are grown. It's more than just another feel-good "buy local" movement — with the yearly harvest comes a torrent of fresh-hop beers made from hops are at their peak of freshness, bursting with aroma from rhizome to rhizome. Why the time-sensitive frenzy? For something so associated with brash bitterness, hops are surprisingly delicate — breaking down almost as soon as they're harvested. The Northwest leads the world in the production of these tasty seasonals, and the alert drinker can try a dozen of them at Peaks and Pints — or the five we picked today for our to-go beer flight, Peaks and Pints Pilot Program: Hop Harvest On the Fly.
Peaks and Pints Pilot Program: Hop Harvest On the Fly
Ferment Fresh Hop Chinook IPA
6.5% ABV
Former pFriem head brewer Dan Peterson and culinary expert wife, Jennifer Peterson, opened Ferment Brewing Co. a few blocks east of pFriem in Hood River in August 2018. Peterson graduated from the University of Vermont with a bachelor's degree in Microbiology and Molecular Genetics. He ran the QC lab and bottle conditioning program at Brooklyn Brewery from 2003-2010 before moving to Oregon and becoming a brewer at Full Sail until 2013 when he joined pFriem. Ferment's building, designed by Portland architectural firm Skylab, features a modern cabin feel, with sharp lines and angles but a cozy vibe. Interior and exterior walls are lined with Douglas fir from Hood River's Tum-A-Lum Lumber company. A hit at this year's Hood River Fresh Hop Fest, this IPA is brewed with fresh Chinook hops for green grass balanced with fresh crisp malt.
Single Hill Energy Cone Fresh Hop IPA
6.8% ABV
The staffs at Full Throttle Bottles and Bottleworks — two popular Seattle craft beer bottle shops and taprooms — joined Single Hill Brewing in downtown Yakima to brew Energy Cone. The fresh hop IPA ended up offering notes of melon, weed, and light pine — a combination so delicious it took Best in Show at the Yakima Fresh Hop Ale Fest.
Skookum Temple of Bloom
5.5% ABV
A collaboration with Varietal Beer, Skookum Brewery's fresh hop pale ale is brewed with a nice portion of wheat and spelt and hopped with an insane amount Carpenter Farms fresh Citra and Loza Farms fresh Amarillo. The hazy pale pours a cloudy straw with nice white head that dissipates slowly. It hits the nose with a pleasant grapefruit, followed by a slightly bitter grapefruit flavor with a lovely mouthfeel.
Skookum Wetside Connection
6.5% ABV
It was 2007 when Ron and Jackie Walcher opened the brewery down a dirt road near Arlington. Today, Skookum head brewer Hollis Wood and his small team churn out "big bold strong" craft beers in a giant facility with a popular taproom down the street from the Arlington Airport — managed by an angel, a big, bearded lovable man named "Angel." Their Wetside Connection single fresh hop hazy IPA is brewed with oats and hundreds of pounds of Citra hops from Carpenter Farms for huge dank citrus fresh hop aroma and taste.
Old Schoolhouse K'POWW Fresh Hop
8% ABV
Old Schoolhouse Brewery's K'POWW double dry hopped fresh hop IPA is the fifth annual collaboration with Skookum Brewery. It's brewed with fresh wet Simcoe and fresh dry Simcoe from Carpenter Ranches in five different ways — kief, pellets, oil, whole cone, and wet hops — over a bed of Pilsner, Golden Promise, floor malted Otter, flaked oats, and wheat for all the fruit, plus some dankness.
LINK: Peaks & Pints cooler inventory
---