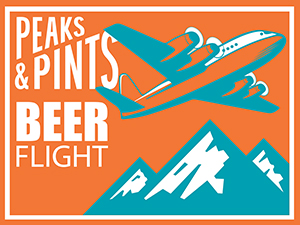 Located in the Seattle neighborhood of Interbay, near the Magnolia Bridge, and started by friends Colin Lenfesty and Mike Murphy who worked in the local beer business, Holy Mountain might sit at sea level but its name gives nod to Mount Rainier, the ominous holy mountain that looms over Seattle, but also to a song and album by doom/stoner band Sleep. Holy Mountain is built on a foundation of oak. Though it dabbles in everything from cloudy IPAs to pilsners, Holy Mountain's heart is its oak foeders and innumerable barrels, which churn out saisons and wild ales that tend to have mild sourness and stunning depth thanks to complex malt bills and a mix of Brettanomyces and local microflora. Today, Peaks and Pints suggests you grab four Holy Mountain beers to-go in a flight we call Peaks and Pints Pilot Program: Holy Mountain On The Fly.
Peaks and Pints Pilot Program: Holy Mountain On The Fly
Holy Mountain The White Lodge
4.8% ABV
The Belgian wit (white) beer is a style that dates back more than 400 years. Holy Mountain's version, The White Lodge, is brewed with a large portion of wheat along with pilsner malt and oats. The Seattle brewery uses coriander and orange peel in the kettle, lending a blend of citrus and floral characters, and ferment with a traditional Belgian strain. It's smooth and dry, with coriander upfront, a little citrus and toasted biscuity malt, with a lightly spicy finish.
Holy Mountain Crystal Ship
5.5% ABV
This oak-fermented mixed culture saison was the first beer to emerge from Holy Mountain's Foeders Crafters of America oak tank. Crystal Ship is brewed with Pilsner malt, wheat, rye, and a generous amount of Crystal malt. It's hopped with Citra Pure Leaf, a byproduct of Citra made from the scraps of hop processing in what's called "coarse fraction bract." If you enjoy oak, this is your beer as oak leads tart apple on the nose and palate.
Holy Mountain The Ox
7% ABV
The Ox is fermented in oak barrels and then aged for four months in an oak foeder, using one of the brewery's favorite Brettanomyces yeast strains. This barrel-aged saison is brewed with orange zest and Cascade hops, and after time in the barrels, emerges with tart notes of orange and citrus on the nose followed by flavors of light oak, subtle banana, almond, citrus, earthy funk, honey, leather, spice, and vanilla notes. It's pleasantly tart, complex and yet highly drinkable. The finish is an anticipated saison finish — dry and effervescent.
Holy Mountain Festbier
5.8% ABV
If you have enjoyed festbier during Oktoberfest in Munich, than you'll dig this version. Lighter in body and lower in alcohol than an Oktoberfest bier, Festbier is brewed with German Vienna and Pilsner malt, and hopped with Tettnang. Fermented cool with their favorite strain of lager yeast originating in Bavaria, and lagered ice cold for 5 weeks, it hits the nose with spicy hops, grainy and bready malt, with some herbal flavors. The spice, bread, and herbal malt character carry over on the tongue with added grassy hop character. It's light bodied, clean, and smooth with a lovely crispness.
---