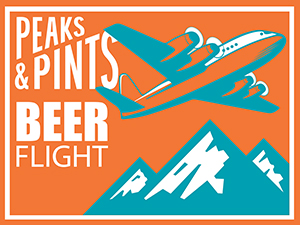 Located in the Seattle neighborhood of Interbay, near the Magnolia Bridge, and started by friends Colin Lenfesty and Mike Murphy who worked in the local beer business, Holy Mountain might sit at sea level but its name gives nod to Mount Rainier, the ominous holy mountain that looms over Seattle, as well as a song and album by doom/stoner band, Sleep. Holy Mountain's heart is its foudres and innumerable barrels, which churn out saisons and wild ales that tend to have mild sourness and stunning depth thanks to complex malt bills and a mix of Brettanomyces and local microflora. While Holy Mountain is built on a foundation of oak, they do brew other world class styles, which is the focus of our to-go flight today, Peaks and Pints Pilot Program: Holy Mountain Beer On The Fly.
Peaks and Pints Pilot Program: Holy Mountain Beer On The Fly
Holy Mountain The White Lodge
4.8% ABV
The Belgian wit (white) beer is a style that dates back more than 400 years. Holy Mountain's version, The White Lodge, is brewed with a large portion of wheat along with pilsner malt and oats. The Seattle brewery uses coriander and orange peel in the kettle, lending a blend of citrus and floral characters, and ferment with a traditional Belgian strain. It's smooth and dry, with coriander upfront, a little citrus and toasted biscuity malt, with a lightly spicy finish.
Holy Mountain Black Beer
4.5% ABV
Black Beer is brewed traditionally with respect to some of the great British brewers. Think of it as hybrid of a dark mild and a porter — a drinkable, malty ale is brewed with roasted and flaked barley, London Ale yeast and hopped with East Kent Golding. Flaked barley helps to increase the mouthfeel while keeping it low ABV. It's tasty enough to sip; light enough to quench a thirst.
Holy Mountain Kiln & Cone
5.9% ABV
Holy Mountain released their first hoppy beer, Kiln & Cone, in 2014. It was initially their "House Pale Ale" in the taproom, and the idea was that each batch featured two different rotating hop varieties. This batch incorporates a simple combination of 2-row and Pilsner malts, with additions of malted oats and flaked wheat. Idaho 7 and Simcoe were used in the whirlpool additions in the kettle, and it was later dry-hopped with more Idaho 7 and Simcoe. Expect tropical fruit flavors with a bitter finish.
Holy Mountain Inherit the Flames
7.2% ABV
Inherit the Flames is a new IPA brewed with a combination of Pilsner and 2-row malts, with additions of Linc Malting soft white wheat, and malted spelt. A combination of Cashmere, Comet, and Mosaic are used in the kettle, and it's dry-hopped with the same. Expect a burst of tropical fruit, citrus, and melon.
Holy Mountain Blessed Black Wings
7.2% ABV
Blessed Black Wings is a crisp new (not very hazy at all) IPA brewed with Pilsner malt, malted spelt, and 2-row. It was hopped late in the kettle with Mosaic, and dry-hopped with copious amounts of Strata for a juicy, sweet IPA that leans on the citrus side.
---