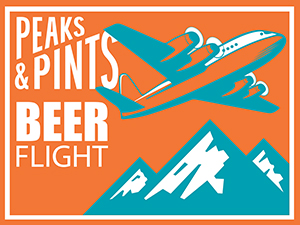 Worn out already? Does the sound of "Away in a Manger" tinkling out of a plastic cherub at Target make you twitch? Do you fantasize about hiring Barry Scheck to get you out of Hanukkah with your in-laws? Do the words solstice and kwanzaa sound like synonyms for "Please God, not another party"? Does prolonged exposure to tinsel in public spaces make you want to go postal? Stop, take a deep breath, and put down the candy cane you've just sharpened into a vampire-slaying stake. You are not alone. There is help. There is craft beer. Peaks & Pints has created a to-go craft beer flight to help you through the holidays. There are annoyances of Christmas, and they defy moderation, so don't bother trying. Just crack open our suggested holiday-themed beers in our flight, Peaks and Pints Pilot Program: Holiday Beer Helpers On the Fly and plow ahead. Cheers!
Peaks and Pints Pilot Program: Holiday Beer Helpers On the Fly
Block 15 Ol' Saint Nick
9% ABV
Eating: To wash down the ubiquitous bricklike fruitcakes, generic cookies, and waxy, cheap chocolate, always have a can of Block 15 Brewing Ol' Saint Nick winter warmer on hand. Notes of toffee, cocoa, plum, and caramel with citrusy hops and a warm, lingering finish make everything taste better.
Reuben's Reuben Claus
5.9% ABV, 30 IBU
Wrapping presents: Who thought this up? The gift wrapper lobby? We ease our annoyance with this least favorite activity with lubricating Reuben's Brews Reuben Claus. This holiday porter may not help wrapping but take comfort in the peppermint. Eight different grains are used to create Reuben's award-winning Robust Porter, the base for the Seattle brewery's holiday porter. Roasted malts are the star in both aroma and flavor that's nutty and slightly sweet with an espresso bitterness balanced by a touch of creamy vanilla, chocolate, and caramel sweetness, without being cloying or off putting. That is … until Reuben's Brews' brewers added candy canes and cocoa nibs. The resulting Reuben Claus holiday porter now has a peppermint nose and flavor with slightly more chocolate flavor. Peppermint is known to soothe an upset stomach and other aches and pains, which is exactly you need. But pry it out of your hand before you tie the bows. 
Great Divide Peppermint Bark Yeti
9.5% ABV
Holiday parties: To prepare yourself for pigs in a blanket and meatballs in mystery sauce — which defy craft beer to begin with, plus the fact that few people serve decent craft beer at parties — always follow one rule of thumb. BYOB — bring your own Bark. Russian imperial stouts take everything that stouts are known for and scale them up to monster size. Fittingly, Great Divide named their version a monstrous name. Yeti lives up to the billing with a huge malty body packing in 9.5 percent alcohol and big flavors to match it. This holiday version Yeti is brewed with peppermint and white chocolate for slight sweetness and mint with a good roast in the base. Remember: if you practice safe beer, you'll be much happier.
Wet Coast Holiday Jeer!
6.5 % ABV, 30 IBU
Shopping: First, stop at Peaks & Pints for some Holiday Jeer! — Wet Coast Brewing's winter ale, a full-bodied stout with big dose of molasses to provide notes of prunes and burnt sugar. They top it off with the addition of ginger, allspice, cinnamon, nutmeg, and cloves. The alcohol will come to your aid when you must battle the lady fighting for the last available Rainbow High Series 3 Sheryl Meyer Fashion Doll. Against your liquid courage, that lady has no chance.
Grains of Wrath Hail Santa!
6.7% ABV
Undesirable family: This is when beer becomes savior. To handle the anal-retentive mother, the grizzly, macho father, and neurotic siblings, all one needs is Santa. Santa Claus performs miracles and wonders every Christmas Eve. Hail Santa! Grains of Wrath honors Santa with this spiced holiday ale made with cinnamon, allspice, ginger, nutmeg, and honey. It's amazing what you won't care about.
LINK: Peaks & Pints cooler inventory
---