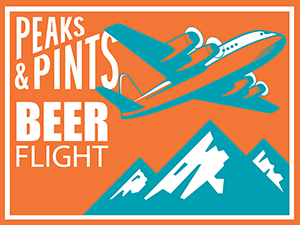 Peaks & Pints knows we've featured hazy IPAs in our to-be beer flight column before, but as a refresher, we'll run through the difference between a regular, clear IPA and a hazy. To be honest, IPAs nowadays have a broad interpretation, so it's not quite an apples-to-apples comparison. But, in layman's terms the hazy tends to go lighter on the bitterness and fruitier and juicier (without adding juice). It's that flavor that tends to make non-IPA fans, fans of the hazy — and with an influx of new hazy IPAs to the Peaks & Pints cooler, we thought we'd take another run at a hazy to-go flight — a flight we're calling Peaks and Pints Pilot Program: Hazy IPA Flight.
Peaks and Pints Pilot Program: Hazy IPA Flight
Brothers Cascadia Why So Cirrus?
5.5% ABV
Brothers Cascadia Brewing just announces their opening a second location in the former Salmon Creek Brewing, Old Ivy Brewery and Mav's Brewing location on the historic Evergreen Boulevard in downtown Vancouver, Washington. Called the Evergreen Pub, it will have a full kitchen and a long ice bar. Their hazy IPA Why So Cirrus? carries a smattering of peaches and cream aroma and flavor. Brothers Cascadia says it's their ode to overcast nature of the Pacific Northwest and not taking themselves too seriously.
Lumberbeard Dope Sauce
6.7% ABV
Whether it's the Southern California apparel company for rad sports, or the related Urban Dictionary meaning as, "The epitome of cool, one who is dope sauce sides with ease through daily problems," dope sauce is super-duper. Naturally, Lumberbeard Brewing chose the term for their new hazy IPA brewed with Nelson Sauvin, Idaho Gem, and Azalea hops for aromas of white peach and limeade with flavors of pineapple and subtle cherry.
Structures Loam Temple
6.8% ABV
"Temple" — a building devoted to worship, aka a place where people worship. Loam Temple is a way to say thanks, bring two passions together, and honor the folks that build and maintain mountain bike trails in Washington (Evergreen Mountain Bike Alliance and Whatcom Mountain Bike Coalition), as well as make and sell awesome beer (Structures Brewing, Brouwer's Cafe, and Bottleworks). Loam Temple hazy IPA is brewed with Mosaic and Simcoe for notes of citrus, floral, pine, and slight dankness.
Fieldwork Losing Day
7% ABV
"If someone were to ask us what are the five greatest hops of all time, the only answer we could give is Nelson, Nelson, Nelson, Nelson, and Nelson because it spit hot fire," says Fieldwork Brewing's Losing Day hazy IPA hype. "As for number six? that would probably have to be Strata. Pairing these two hops together was an absolute no brainer, going pretty heavy with the Nelson and a little lighter on the overly aggressive Strata the result is a simply perfect duet leaving Losing Day dripping in notes of fresh passionfruit, Sauvignon Blanc grapes, key lime, sweet apricots, juicy pineapple, strawberries, papaya, and that lovely Nelson diesel."
Vice Looking For Love In Alderaan Places
8.5% ABV
Alderaan was infamously destroyed in the first installment of the Star Wars franchise, yet Darth Vader and the rest of the Galactic Empire would continue to insult the Core World's memory long after its obliteration. The Empire's destruction of Alderaan devastated the galaxy and the Force itself, yet it ultimately did not have the effect intended by Grand Moff Tarkin. Alderaan's destruction would embolden the Rebel Alliance and later the New Republic, which in turn led to the Empire's continued cruelty towards the few surviving Alderaanians. Vice Beer's Looking For Love In Alderaan Places is a double dry hopped double hazy IPA exploding with Strata, Mosaic & Citra hops.
LINK: Peaks & Pints cooler inventory
---